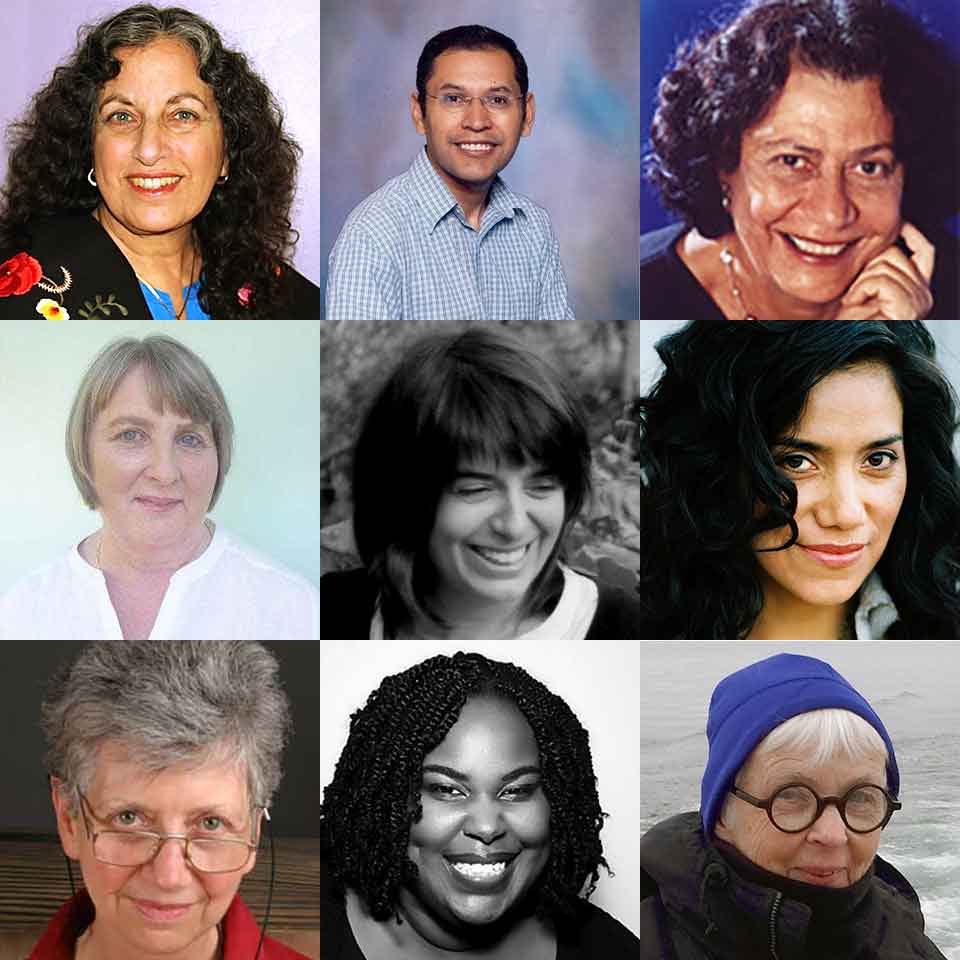 The 2019 NSK Nominees (top, left-to-right) Margarita Engle (Photo: Sandra Rios Balderrama), René Colato Laínez, Ana Maria Machado, (middle, left-to-right) Isabel Minhós Martins, Hilary McKay, Yuyi Morales, (bottom, left-to-right) Beverley Naidoo (Photo: Linda Brownlee), Renée Watson, and Jeanette Winter.
We are honored to announce the finalists for the 2019 NSK Neustadt Prize for Children's Literature. The NSK Prize is the most prestigious international children's literary award given in the United States. An international, nine-member jury of accomplished writers and artists selected the shortlist, with their sole criterion being the significant achievement of a writer or illustrator, either over a lifetime or in a single publication, as well as an ongoing, positive impact on children's literature.
The NSK Prize is celebrated for its exclusive focus on literary merit, being recognized as one of the most truly international literary awards given in the world. This year's nominees are from around the globe, and, notably, female authors make up almost all of the finalists.
Robert Con Davis-Undiano, executive director of World Literature Today, heralded the list of finalists as a watershed moment. "The NSK Prize celebrates the very best in children's literature, and this year is no exception." He noted that "a dynamic group of jurors has selected a truly outstanding set of artists who inspire us with their sheer talent and ability to educate our souls."
Commenting on the majority female makeup of the finalists, Davis-Undiano praised the jurors' choices, adding that "while the criterion for selection is based exclusively on literary excellence, World Literature Today is proud to represent diversity and multicultural empowerment in all its forms."
The finalists for the 2019 NSK Neustadt Prize for Children's Literature are:
Margarita Engle, Cuba/United States
René Colato Laínez, El Salvador
Ana Maria Machado, Brazil
Isabel Minhós Martins, Portugal
Hilary McKay, United Kingdom
Yuyi Morales, Mexico/United States
Beverley Naidoo, South Africa
Renée Watson, United States
Jeanette Winter, United States
The 2019 NSK Prize winner will be announced on Oct. 9, the opening night of the 2018 Neustadt Festival, which runs through Oct. 11. Hosted on the University of Oklahoma Norman campus each fall, the Neustadt Lit Fest is a three-day event featuring music, art, dance, and drama representing that year's winning writer's culture as well as roundtable discussions of literary trends and the author's literary and cultural influence. At the 2019 festival, which will be hosted in the NSK Prize winner's honor, the recipient will receive $25,000, a silver medallion, and a certificate.
The NSK Prize was first awarded in 2003 to Newbery Medal winner Mildred D. Taylor. Other notable winners include National Book Award recipients Katherine Paterson (2007) and Virginia Euwer Wolff (2011), two-time Hans Christian Andersen Award finalist Brian Doyle (2005), and Naomi Shihab Nye (2013). Last year's NSK Prize was awarded to poet Marilyn Nelson, winner of the Poetry Society of America's Forst Medal.
The NSK Prize is given in alternating years with the Neustadt International Prize for Literature. The 2018 Neustadt Prize winner is author Edwidge Danticat of Haiti, an influential writer and winner of the National Book Critics Circle Award and a MacArthur Fellowship, among other awards. Danticat will be recognized at the 2018 Neustadt Festival from Oct. 9 through 11.