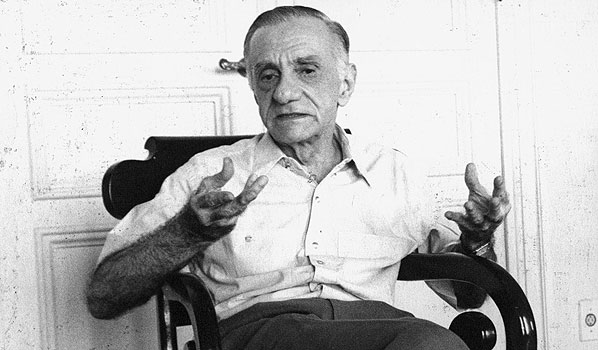 "Cabral's project is to re-create the world, taking the things—both abstract and concrete—that are common to all men and turning them around, making them uncommon, conferring on them the dimension they lacked." —Richard Zenith, "The State of Things in the Poetry of João Cabral de Melo Neto" (WLT 66, Autumn 1992)
João Cabral de Melo Neto (1920–1999) was a Brazilian poet and diplomat. After moving to Rio de Janeiro in 1940, he published his first collection of poems, Pedra do Sono. In 1945 he was assigned to his first diplomatic post in Spain, where he continued to write. Most of Cabral's life was spent as a diplomat, which afforded him the opportunity to travel the world. Through all of his travels, he continued to write poetry, and at the end of his life, he had published more than fifteen collections. He is considered one of the greatest Brazilian poets of all time. Cabral's body of work includes O Engenheiro (1945), O Cão sem Plumas (1950), A Educação pela Pedra (1966; Eng. Education by Stone, 2005), and Sevilha Andando (1990). His most famous work, "Morte e Vida Severina," was translated into English in part by 1976 Neustadt laureate Elizabeth Bishop and reprinted in Selected Poetry, 1937–1990 (1994), ed. Djelal Kadir. In addition to the Neustadt Prize, Cabral was honored with the 1990 Camões Prize.
In his encomium, then-editor in chief Djelal Kadir said of the poet, "He practices a laconic art of deference in a poetry that curtails its own voice, as well as the ego of its author, yielding to the human context that links poetic vocation with daily life and worldly experience" (WLT 66, Autumn 1992).
1992 Neustadt Jurors and Candidates

JURORS
FINALISTS
Etel Adnan (Lebanon/France/USA)
Habib Tengour (Algeria)
Vassily Aksyonov (Russia/USA)
Bella Akhmadulina (Russia)
Zulfikar Ghose (Pakistan/USA)
Christopher Middleton (England)
Güneli Gün (Turkey/USA)
Orhan Pamuk (Turkey)
V. Y. Mudimbé (Zaire)
Henri Meschonnic (France)
Makoto Ooka (Japan)
Kenzaburo Oe (Japan)
Sergio Perosa (Italy)
Andrea Zanzotto (Italy)
Elena Poniatowska (Mexico)
Eduardo Galeano (Uruguay)
Alastair Reid (Scotland/USA)
John Berger (England)
Silviano Santiago (Brazil)
João Cabral de Melo Neto (Brazil)
Anton Shammas (Israel/Palestine)
A. B. Yehoshua (Israel)
"I do not know how it is in your northerly country, but in mine, in its colloquial usage, the word poet has a certain connotation between bohemian and irresponsible, contemplative and inspired, all things that have nothing to do with my way of conceiving poetry and with what I have managed to accomplish."
—João Cabral de Melo Neto (Brazil), 1992 Neustadt Laureate
---
"Poetry seems to me something much broader: it is the exploration of the materiality of words and of the possibilities of organization of verbal structures, things that have nothing to do with what is romantically called inspiration, or even intuition."
—João Cabral de Melo Neto (Brazil), 1992 Neustadt Laureate