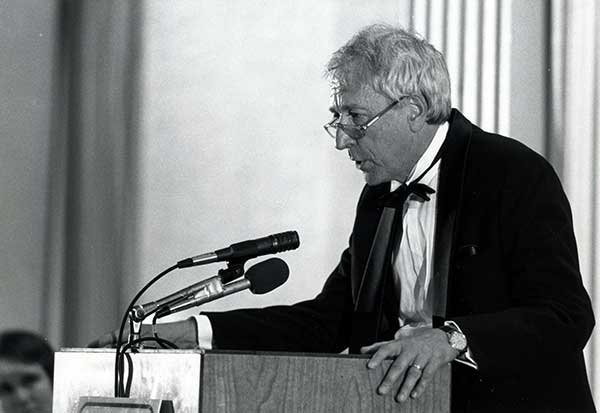 "He has been able to breathe life into the most uninspiring realities of modern existence and in this way has significantly broadened the scope of our poetic vision of the world." – Jaan Kaplinski, from his 1990 nominating statement for Tranströmer
Tomas Tranströmer (1931–2015) was a Swedish writer, poet, and translator whose poetry has been translated into over sixty languages. In his life, he was considered the premier postwar Scandinavian poet. He published thirteen volumes of poetry in Swedish, from 17 dikter (1954) to Den stora gåtan (2004). His books of poetry in English include New Collected Poems (2011), The Sorrow Gondola (2010), The Half-Finished Heaven (2001), For the Living and the Dead (1995), Baltics (1975), Windows and Stones (1972), and 20 Poems (1970), among others. In addition to the Neustadt Prize, Tranströmer was honored with the 1991 Swedish Academy Nordic Prize and the 2011 Nobel Prize in Literature.
Tranströmer's nominating juror, Estonian poet and philosopher Jaan Kaplinski, said: "In our world that is often so confused by all kinds of ideologies and doctrines, Tranströmer has always remained a politically nonengaged humanist who understands he has no right to forget the sufferings of other people, be it in the West or in the East, but who knows that there are no quick and simple solutions to the grave problems of our time."
Read Kaplinski's nominating statement and Tranströmer's 1990 acceptance speech in World Literature Today 64, no. 4 (Autumn 1990), 552-553.
1990 Neustadt Jurors and Candidates

JURORS
FINALISTS
Homero Aridjis (Mexico)
Östen Sjöstrand (Sweden)
Assia Djebar (Algeria/France)
Mohammed Dib (Algeria/France)
Knut Faldbakken (Norway)
Rolf Jacobsen (Norway)
Mavis Gallant (Canada/France)
Robert Pinget (France)
Vera Gancheva (Bulgaria)
Yordan Radichkov (Bulgaria)
George Gömöri (Hungary/England)
György Konrád (Hungary)
Richard Howard (USA)
Michel Leiris (France)
Jaan Kaplinski (Estonia)
Tomas Tranströmer (Sweden)
Sam Selvon (Trinidad/Canada)
V. S. Naipaul (Trinidad/England)
Lasse Söderberg (Sweden)
Vasko Popa (Yugoslavia)
Xiao Qian (China)
Dai Houying (China)
"Let me sketch two ways of looking at a poem. You can perceive a poem as an expression of the life of the language itself, something organically grown out of the very language in which it is written—in my case, Swedish. A poem written by the Swedish language through me. Impossible to carry over into another language. Another, and contrary, view is this: the poem as it is presented is a manifestation of another, invisible poem, written in a language behind the common languages. Thus, even the original version is a translation. A transfer into English or Malayalam is merely the invisible poem's new attempt to come into being. The important thing is what happens between the text and the reader. Does a really committed reader ask if the written version he reads is the original or a translation?"
—Tomas Tranströmer (Sweden), 1990 Neustadt Laureate