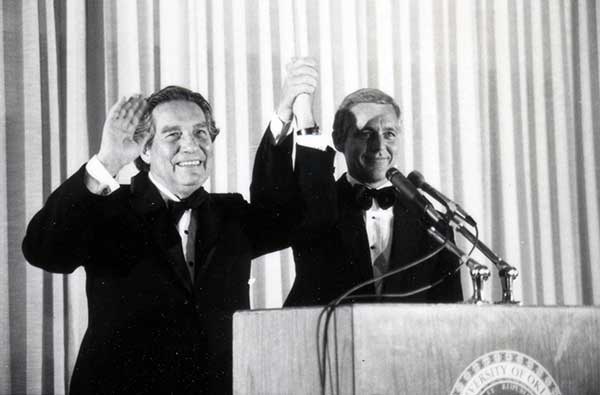 "Octavio Paz is the critical, free, lucid conscience of the world in which we live." —Jorge Guillén, "In Homage to Octavio Paz, Neustadt Laureate" (WLT 56, Autumn 1982)
Octavio Paz (1914–1998) was born and raised in Mixcoac, part of present-day Mexico City. His family supported Emiliano Zapata, and after Zapata's assassination they were forced into exile in the United States. Paz was only nineteen when he published his first collection of poetry, entitled Luna Silvestre (1933). During his long career, Paz founded the literary journals Barandal (1932) and Taller (1938) and the magazines Plural (1970) and Vuelta (1975). In 1945 he began working as a diplomat for the Mexican government in such places as Paris, Tokyo, Geneva, and Mumbai. His travels influenced much of his work, and he published many of his books while working abroad. Paz's numerous collections of poetry include Entre la piedra y la flor (1941), Piedra de sol (1957; Eng. Sun Stone, 1991), and Renga (1972). Additionally, Paz wrote many essays, short stories, and plays, including El laberinto de la soledad (1950; Eng. The Labyrinth of Solitude, 1961), Corriente alterna (1967; Eng. Alternating Current, 1973), and La hija de Rappaccini (1956). In addition to the Neustadt Prize in 1982, Paz was awarded the 1981 Miguel de Cervantes Prize and the Nobel Prize in Literature in 1990.
In his remarks about the poet, nominating author Manuel Durán said of Paz's work, "By approaching language through poetry and passion he deals with a universal fact—there is no culture without language, and language belongs to all of us—through feelings (sensuousness, sexual passion) that are also our common heritage" ("Octavio Paz: The Poet as Philosopher," WLT 56, Autumn 1982).
1982 Neustadt Jurors and Finalists

JURORS
FINALISTS
Yehuda Amichai (Israel)
Ted Hughes (England)
Poul Borum (Denmark)
Laura Riding (USA)
John L. Brown (USA)
Robert Penn Warren (USA)
Manuel Durán (Spain/USA)
Octavio Paz (Mexico)
Efim Etkind (USSR/France)
Vladimir Voinovich (USSR/ West Germany)
Francine du Plessix Gray (USA)
Max Frisch (Switzerland)
Mimmo Morina (Italy/Luxembourg)
Guillevic (France)
Hualing Nieh (China/USA)
Ba Jin (China)
Östen Sjöstrand (Sweden)
Artur Lundkvist (Sweden)
Giancarlo Vigorelli (Italy)
Leonardo Sciascia (Italy)
"The truth is that I am not very certain of the value of my writings. On the other hand, I am certain of my literary passion: it was born with me and will die only when I die. This belief consoles me."
—Octavio Paz (Mexico), 1982 Neustadt Laureate
---
"I will say even more: to acknowledge the variety of visions and sensibilities is to preserve the richness of life and thus to ensure its continuity. Hence the Neustadt Prize, in stimulating the universality and diversity of literature, defends life itself."
—Octavio Paz (Mexico), 1982 Neustadt Laureate