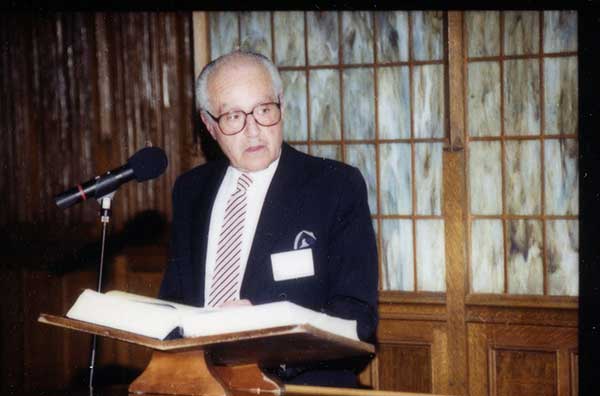 "Malouf wants to retain and insist upon human moral responsibility, if not for what we endure, then certainly for how we make meaning of those events."—Carolyn Bliss, "Reimagining the Remembered: David Malouf and the Moral Implications of Myth" (WLT 74, Autumn 2000)
David Malouf was born in Queensland, Australia, in 1934 and became a full-time writer in 1978. He has published poetry, novels, short stories, essays, opera librettos, and a play and has been widely translated. His first two published books were collections of poetry. His first novel, Johnno (1975), is the semi-autobiographical tale of a young man growing up in Brisbane during the Second World War. His second novel, An Imaginary Life (1978), is a fictional account of the exiled Roman poet Ovid. Later novels include Child's Play with Eustace & The Prowler (1982), Fly Away Peter (1982), Harland's Half Acre (1985), The Great World (1990)—which won the Commonwealth Writers Prize (overall winner, best book) and the Prix Femina Étranger (France)—and the acclaimed Remembering Babylon (1993), which was shortlisted for the Booker Prize for Fiction, won the first International IMPAC Dublin Literary Award in 1996, and the Commonwealth Writers Prize (South East Asia and South Pacific Region, best book). The Conversations at Curlow Creek (1996) followed. His collections of short stories include Antipodes (1985), Dream Stuff (2000), and Every Move You Make (2006). Recent publications are Ransom (2009), a novel inspired by a part of Homer's Iliad, and Earth Hour (2014), a poetry collection. He was shortlisted for the Man Booker International Prize in 2011. His most recent volume of poetry is An Open Book (2018).
Ihab Hassan, Malouf's nominating juror, said of the author, "And right there I saw a glimmer of his gift: wakefulness and precision of feeling, blended in wonder, and a delicacy that can surprise the mystery of creation itself. It was this elusive quality, inward with his poetic sensibility, a quality akin to love, that first drew me to the work of David Malouf" ("Encomium: David Malouf," WLT 74, Autumn 2000).
2000 Neustadt Jurors and Candidates

JURORS
FINALISTS
Cyril Dabydeen (Guyana/Canada)
Wilson Harris (Guyana/England)
Ha Jin (China/USA)
V. S. Naipaul (Trinidad/England)
Ihab Hassan (Egypt/USA)
David Malouf (Australia)
Linda Hogan (USA)
N. Scott Momaday (USA)
Helen R. Lane (USA)
Juan Goytisolo (Spain)
Carlos Monsiváis (Mexico)
Augusto Monterroso (Guatemala)
Mervyn Morris (Jamaica)
V. S. Naipaul (Trinidad/England)
Tanure Ojaide (Nigeria)
Femi Osofisan (Nigeria)
Kirsti Simonsuuri (Finland)
Mirkka Rekola (Finland)
Dubravka Ugresic (Post-Yugoslav)
György Konrád (Hungary)
"What the vastness of Australian spaces evokes is anxiety. This is a landscape that has no need of human presence or a shaping mind or hand to complete it. It is already complete—which seems to be how the aboriginal world has always seen it; the land, for them, is something to be known, protected, revered, but not, as is our way, to be changed and 'improved.' For those of us who come to it with a European culture behind us, of making, of making use, it is a challenging and forbidding presence, and its beauty, its resistance, its hostility as some have seen it, raises questions about man's place in the scheme of things that do not arise, or not so sharply, elsewhere."
—David Malouf (Australia), 2000 Neustadt Laureate