Kathleen T. Horning
Kathleen T. Horning is director of the Cooperative Children's Book Center of the School of Education at the University of Wisconsin-Madison. She is a graduate of UW-Madison and has worked her entire career at the CCBC, beginning as a volunteer when she was an undergraduate studying linguistics. For ten years, she also worked half time as a children's librarian at Madison Public Library. Horning has served on numerous book award committees, including the Newbery Medal committee, the Coretta Scott King Award committee, and the Américas Award committee. She is a past president of the Association for Library Service to Children of the American Library Association, and of the United States Board on Books for Young People. She is the author of From Cover to Cover: Evaluating and Reviewing Children's Books (HarperCollins, 2010). She delivered the 2010 May Hill Arbuthnot Lecture last spring, entitled "Can Children's Books Save the World? Advocates for Diversity in Children's Books and Libraries," at the University of California- Riverside. She frequently writes and lectures about children's and young-adult literature and is a regular reviewer for Horn Book magazine.
Eric A. Kimmel
Eric A. Kimmel has been writing for children since 1968. He is the award-winning author of the picture book classics Anansi and the Moss-Covered Rock and Hershel and the Hanukkah Goblins, as well as nearly 100 other titles. His honors include the Sydney Taylor Lifetime Achievement Awards, The National Jewish Book Award (four times), and numerous state and children's choice awards. His middle grade novel Hiss-s-s-s! is a nominee for the 2015 Sequoyah award.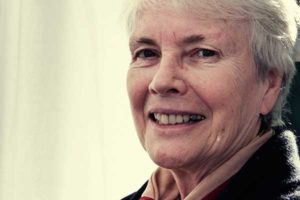 Elizabeth Laird
Elizabeth Laird (www.elizabethlaird.co.uk) was born in New Zealand of Scottish parents. She has lived in Ethiopia, Malaysia, Iraq, Lebanon, and Austria. She now lives in Britain with her husband, David McDowall, who is also a writer. They divide their time between London and Edinburgh. Laird has won many awards for her children's books, including the Children's Book Award, and has been shortlisted five times for the Carnegie Medal. She has written contemporary and historical novels, and her fiction has tackled modern issues in the Middle East and Africa. Her work has been translated into more than twenty-five languages. During extensive travels throughout Ethiopia, Laird collected more than three hundred folk stories. This collection is published online (www.ethiopianfolktales.com) and is described in her book The Lure of the Honey Bird.
Nii Ayikwei Parkes
A 2007 recipient of Ghana's national ACRAG award for poetry and literary advocacy, Nii Ayikwei Parkes is the author of the acclaimed hybrid literary novel Tail of the Blue Bird, which was shortlisted for the 2010 Commonwealth Prize and has since been translated into Dutch, German, Japanese, and French. His book of poetry, The Makings of You, includes the poem "Barter," which was used in the 2013 Poems on the Underground London series. Parkes writes for children under the name K. P. Kojo and his book of Ananse stories, The Parade, was selected for the 2012 USBBY's Outstanding International Books list in the United States and has recently been translated into Korean. In 2011 he received a grant from the James Irvine Foundation for a series of talks in California and served on the panel of judges for the Commonwealth Prize. In 2014 the French translation of Tail of the Blue Bird, Notre Quelque Part, won France's Prix Mahogany and Parkes was selected as one of Africa's thirty-nine most promising authors under forty for the World Book Capital Africa 39 Project.
Kathryn Otoshi
Kathryn Otoshi is an award-winning author and illustrator from the Bay Area. Her 2008 book, One, won ten awards nationwide, including the E. B. White Read Aloud Honor, the Nautilus Gold Choice Award, and the Mom's Choice Award. Other titles include Zero, What Emily Saw, and Simon & the Sock Monster. She is also well known as a panelist and guest speaker.
J. L. Powers
J. L. Powers grew up in El Paso on the U.S.-Mexico border and now lives in northern California. She is the award-winning author of three novels for young adults (The Confessional, This Thing Called the Future, and Amina) and editor of two collections of essays (Labor Pains and Birth Stories: Essays on Pregnancy, Childbirth, and Becoming a Parent and That Mad Game: Growing Up in a Warzone.) Her first picture book, Colors of the Wind: The Story of Blind Artist and Champion Runner George Mendoza, is forthcoming in 2014. She teaches creative writing, literature, and composition at Skyline College in San Bruno, California. Her obsessions are African history and literature (especially crime novels), Mexican food, and anything related to children's literature.
Richard Van Camp
Richard Van Camp (www.richardvancamp.com) is a proud member of the Dogrib (Tlicho) Nation from Fort Smith, Northwest Territories. He is the author of two children's books with the Cree artist George Littlechild: A Man Called Raven and What's the Most Beautiful Thing You Know About Horses? He has published a novel, The Lesser Blessed, which is now a feature film with First Generation Films; his collections of short fiction include Angel Wing Splash Pattern, The Moon of Letting Go and Other Stories, and Godless but Loyal to Heaven. He is the author of three baby books: Welcome Song for Baby: A Lullaby for Newborns; Nighty Night: A Bedtime Song for Babies,and Little You (now translated into Cree, Dene and South Slavey!), and he has two comic books out with the Healthy Aboriginal Network: Kiss Me Deadly and Path of the Warrior. He has three forthcoming books: Three Feathers (a graphic novel on restorative justice), a small novel, Whistle (about asking for forgiveness), and Night Moves, a new collection of short stories. The latest cinematic adaptation of his work is Mohawk Midnight Runners, which is a short film by Zoe Hopkins based on Richard's short story "Dogrib Midnight Runners" from The Moon of Letting Go.