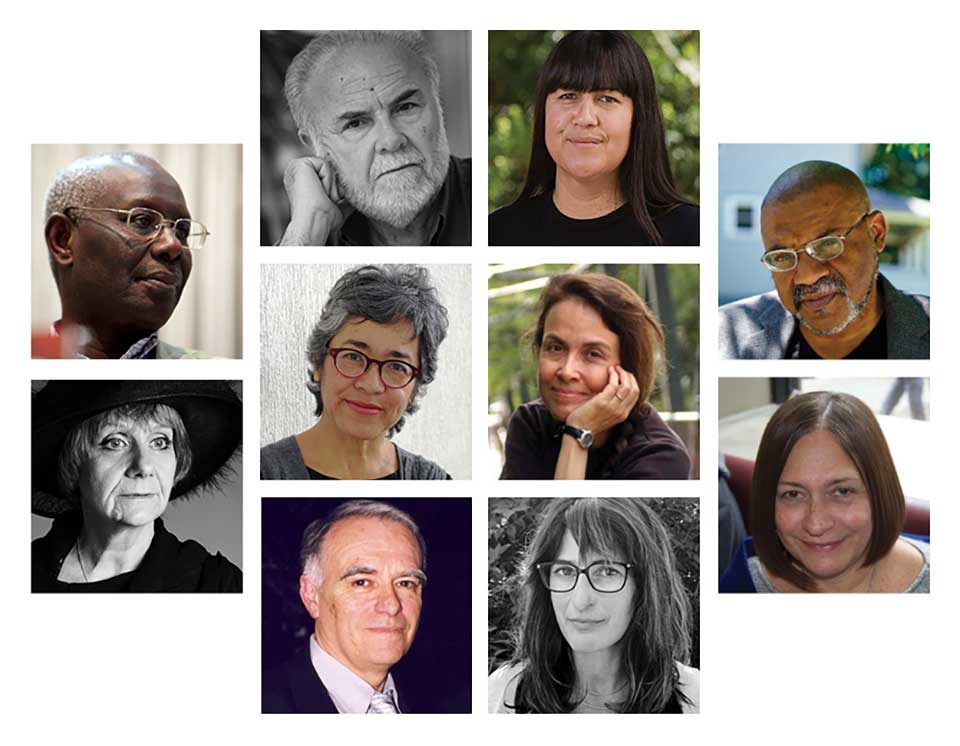 Left column (top to bottom): Boubacar Boris Diop, Ludmilla Petrushevskaya; Middle left column: Michális Ganás, Cristina Rivera Garza, Jean-Pierre Balpe; Middle right column: Natalie Diaz, Naomi Shihab Nye, Micheline Aharonian Marcom; Right column: Kwame Dawes, Reina María Rodríguez. Petrushevskaya photo © Anastassia Kazakova. Diaz photo © MacArthur Foundation. Dawes photo by Chris Abani
Norman, Okla., June 15, 2021 – World Literature Today, the University of Oklahoma's award-winning magazine of international literature and culture, has announced finalists for the 2022 Neustadt International Prize for Literature. This prestigious prize recognizes significant contributions to world literature and has a history as a lead-up to the Nobel Prize in Literature.
The nominees (with representative texts noted) for the 2022 Neustadt Prize, which carries a $50,000 cash award, are as follows:
Jean-Pierre Balpe (France), Herbier Anglais
Kwame Dawes (Ghana / Jamaica), Prophets
Natalie Diaz (United States), Postcolonial Love Poem
Boubacar Boris Diop (Senegal), Murambi: The Book of Bones
Michális Ganás (Greece), A Greek Ballad: Selected Poems
Micheline Aharonian Marcom (United States), Three Apples Fell from Heaven
Naomi Shihab Nye (United States), The Tiny Journalist
Ludmilla Petrushevskaya (Russia), There Once Lived a Woman Who Tried to Kill Her Neighbor's Baby
Cristina Rivera Garza (Mexico), The Iliac Crest
Reina María Rodríguez (Cuba), The Winter Garden Photograph
Ten Neustadt jurors, all creative writers, chose the finalists; they will meet to choose the winner at the 2021 Neustadt Lit Fest, scheduled for Oct. 25–27. The literary festival is hosted by World Literature Today and the University of Oklahoma.
The finalists' full bios can be found here.
"This jury continues the tradition of having top-tier international writers assessing the work of peers," said Robert Con Davis-Undiano, executive director of World Literature Today, the prize sponsor. "Literature is a key component of our ability to recognize what makes us human, and the work of the Neustadt jury year after year is a contemporary tribute to the critical place that literature has in our lives."
The winner announcement will be made on Tuesday, Oct. 26, during the Neustadt Lit Fest, which this year also honors Cynthia Leitich Smith (Muscogee), laureate of the 2021 NSK Neustadt Prize for Children's Literature. Festival events are free and open to the public.
The Neustadt Prize is the first international literary award of this scope to originate in the United States and is one of the very few international prizes for which poets, novelists, screenwriters and playwrights are equally eligible. Since 2003, it has been awarded every other year, alternating with the NSK Prize, to a living writer in recognition of a significant body of work. Past winners include Czesław Miłosz, Gabriel García Márquez and Edwidge Danticat. The 2020 Neustadt Prize winner was Albanian author Ismail Kadare.
Winners of the Neustadt Prize are awarded $50,000, a silver replica of an eagle feather, a prize certificate and a festival hosted in their honor. A generous endowment from the Neustadt family supports the award.