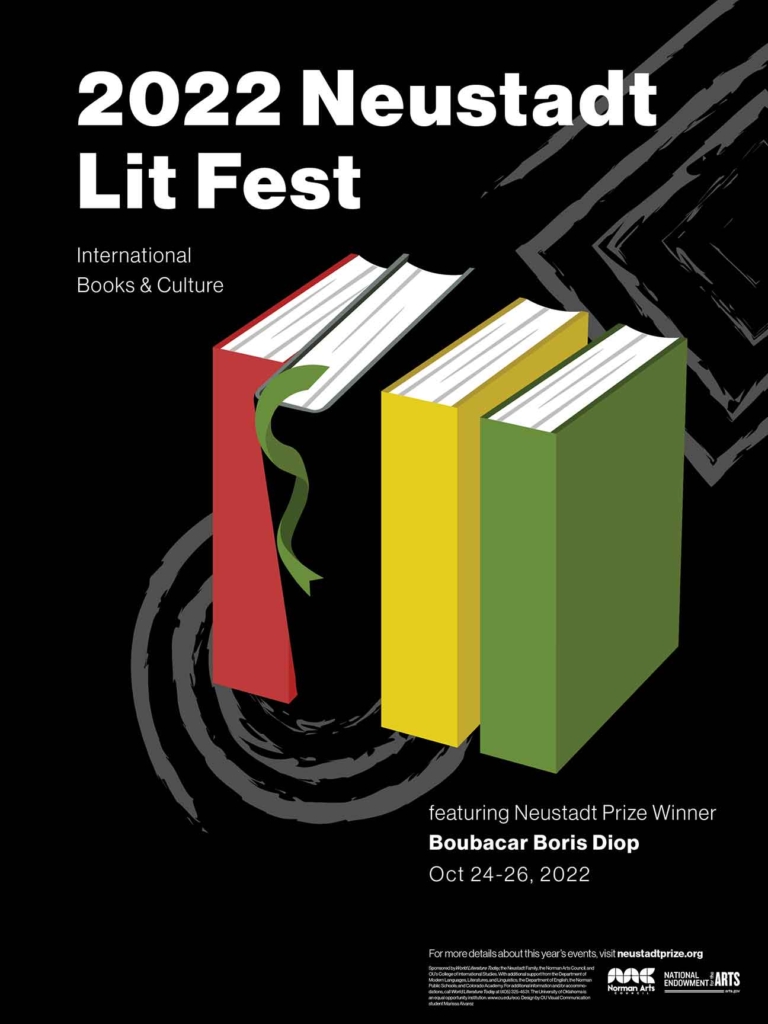 NORMAN, OKLA., July 8, 2022 – University of Oklahoma students Marissa Alvarez and Abby McInnis have been awarded first and second place, respectively, in the annual Neustadt Lit Fest poster design project. Tran Nguyen and Ivan Rivera tied for third place. The students participated in the competition as part of an annual collaboration sponsored by World Literature Today magazine and the University of Oklahoma School of Visual Arts.
Alvarez's winning design will be used in all the promotional materials for the 2022 Neustadt Festival, slated for Oct. 24-26 on the OU campus. The lit fest will feature Senegalese writer Boubacar Boris Diop, the 27th laureate of the Neustadt International Prize for Literature, which WLT sponsors. Nine writers will also convene that week as the jury to select the winner of the 2023 NSK Neustadt Prize for Children's and Young Adult Literature.
Since 2011, School of Visual Arts undergraduate coordinator Karen Hayes-Thumann has incorporated this design project as part of an undergraduate course in visual communication. This year, WLT's art director, Gayle L. Curry, and editor in chief, Daniel Simon, met with the students to provide feedback and help them refine their concepts. The WLT staff then chose the winners from among the final projects.
"Marissa's poster is beautifully designed with a vibrant color palette and symbols that reflect the Senegalese culture while incorporating the literary aspect of the festival. The dark background makes a bold statement and the colors pop," said Curry.
First-place winner Marissa Alvarez is a visual communications major who studies and enjoys design and art. Outside of the university, she is a licensed cosmetologist and supports herself doing makeup sessions for special events. "Winning this year's Neustadt Poster Contest is very meaningful to me," said Alvarez. "The recognition is an honor and reflects my hard work and dedication. I look forward to creating and displaying more work in the world."
Second-place winner Abby McInnis is a junior visual communications major. She grew up in Fort Worth, Texas, and has been interested in the creative arts—especially photography, painting and sculpture—for as long as she can remember. She knew very little about visual communications until starting the VisComm program at OU. She is excited about what the next two years will bring and looks forward to continuing to learn and grow.
Tran Nguyen, tied for third place, was born and raised in Saigon, Vietnam. To pursue her dream, she decided to come to the United States and study. As a VisComm student, she has learned many technical skills, especially during the poster competition, which gave her a chance to engage and apply her knowledge to the contest. She believes that visual language is leveraged to help convey the message and transcend barriers in communication with people.
Ivan Rivera, tied for third place, was born in Muscatine, Iowa, but raised in Hardesty, Oklahoma. As the third oldest of six siblings, he was raised in poverty in a small town with a population less than three hundred and frequently became bored. He would spend his free time creating, whether writing, drawing, or animating. These actions are what inevitably led him to enter visual communications at OU.
For more information about World Literature Today and the Neustadt Prizes, visit worldlit.org.
###