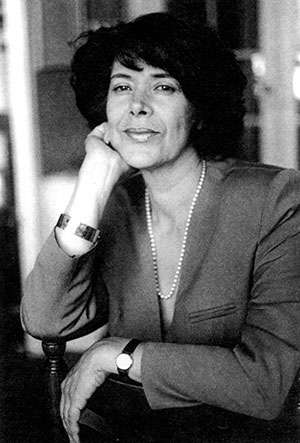 The 1996 Neustadt Prize Laureate
The editors and staff of World Literature Today were deeply saddened to hear of the passing of Algerian-born novelist, translator, and filmmaker Assia Djebar on February 6, 2015. In her honor, we reprint below the tribute Mohammed Dib penned in 1996, when she was named the fourteenth laureate of the Neustadt International Prize for Literature—the third Algerian writer to be nominated for the prize, following Dib and Habib Tengour, and the first African-born laureate. Click here to read a biographical note about Djebar's life and work. – Daniel Simon, Editor in Chief
Assia Djebar, or Eve in her Garden
By Mohammed Dib
One must keep in mind that Algeria is composed of the junction of two planets, which, while they are parallel, are also "heteradelphic"—that is, according to the Littré dictionary, "made up of a series of doubles in which the imperfect, subordinate subject is implanted on the foremost surface of the primary body." As one might expect, this principal body is of female gender; I leave to the reader the task of guessing the gender of the secondary subject.
Into this context Assia Djebar arrives and, confronted with the secondary subjects, those dwarfed homunculi who are surprised and horrified at her arrival, she raises the veil from the other planet: her own. We, the homunculi, were certainly not seeking any such revelation, and had we suspected the nature of what she was to reveal, we would have blinded ourselves well in advance. Some of us even did so; we gouged out our own eyes.
But what exactly was she going to show us? A planet inhabited by beautiful creatures called women, so beautiful in fact, in both body and mind, that no ordeal, not even that of looking upon us, could disfigure them. And to think that we were cut off from them only by our own faulty vision! Assia Djebar, through a daring operation, cured us of our affliction and gave us back our sight.
She has gone even farther: having led us by the hand, she has revealed to us that other world, next to which we, the homunculi, had always existed, that world we lived alongside without ever realizing it; and in our desert, we finally glimpsed a garden of mysterious pathos and beauty.
Assia Djebar, who knew the garden perfectly, guided us from path to path, from grove to grove, from wood to wood. And all we had left were our eyes to weep for the dispossession, the immense, unequaled loss of this garden of tenderness and charm, due to our own incapacity to see.
Without question, the humanity of man in Algeria is found in women, those who take it on and protect it. The Algerian man does not realize this, and thus does not credit these women, nor does he reward them for their work or recognize their contribution. If, by this distinguished Neustadt Prize, Assia Djebar finally sees herself vindicated as an Algerian woman, if she receives as well the prize of such well-merited recognition, we can only regret that this gracious gesture was not made by her own country. But then, how could such a gesture be possible in a land governed by homunculi?
Paris
Translation from the French
By Pamela Genova
From World Literature Today 70, no. 4 (Autumn 1996), 788.
The francophone Algerian writer Mohammed Dib (1920–2003) wrote over thirty novels as well as numerous short stories, poems, and children's literature. He was twice nominated for the Neustadt Prize—in 1984 by Eric Sellin and in 1990 by Djebar—and he also served on the 1976 Neustadt Prize jury, which selected Elizabeth Bishop for the award.
Pamela Genova is the David Ross Boyd Professor of French and Presidential Professor in the Department of Modern Languages, Literatures, and Linguistics at the University of Oklahoma.