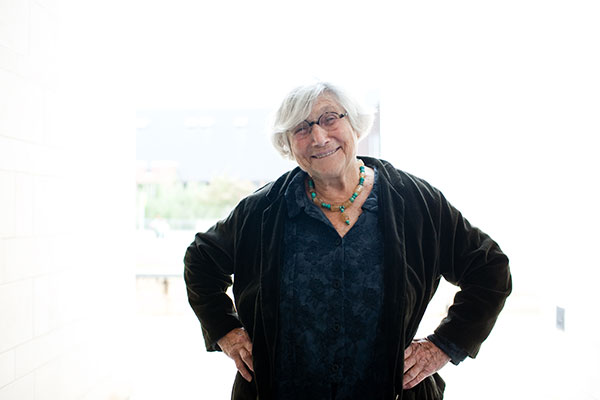 By Daniel Simon
When Vera B. Williams came to the University of Oklahoma to receive the NSK Neustadt Prize for Children's Literature in fall 2009, she spoke fondly about the many fairy tales that were recited to her as a child—tales that included such vivid characters as Baba Yaga, Little Dumling, and Maryushka in "The Crystal Apple." Hearing those stories, she said, "I always had a desire to see the whole world." When we received news yesterday of her passing, the entire staff of World Literature Today immediately remembered her vibrant presence on campus that October, surrounded by schoolchildren, as a storyteller first and foremost, an artist who could evoke "the whole world" in a few masterful words and brushstrokes on the page.
Virginia Euwer Wolff, who nominated Vera for the NSK Prize, shared this reminiscence with us: "At the heart of Vera's art was the act of 'piatchkying,' which she explained as 'playing around in paint and colors and little images.' From this lifelong play emerged memorable, empathic illustrations in the sixteen books of her more than forty-year career. She also spent a month in a federal penitentiary for her role in an antiwar demonstration. Between the wonder and woe of life, Vera brought children the gifts of poignancy and hilarity, often rubbing noses with each other. For comfort, read her 'More, More, More,' Said the Baby aloud to at least one young child. You'll both feel better."
And Nancy Barcelo, one of the three Neustadt sisters—along with Kathy Neustadt and Susan Neustadt Schwartz—to endow the NSK Prize, offered this tribute: "Despite her great talent, Vera was completely accessible. Like the person next door that you could go to for a cup of tea or to borrow sugar for cookies. She was comforting and her books were comforting. What could be better?"
In the following essay, written especially for the March 2010 issue of WLT, Vera reflected on the many voices and visions that inspired her work. In her desire to see the whole world and to share that vision with others, she gave readers everywhere an everlasting gift.
The Reading Child Inside This Writer
Vera B. Williams
When I was very young (also small for my age), I would be gathered into my mother's or father's lap and read to or sing-songed to, in English by my mother but often in Russian or Hebrew by my father. Sometimes I lay there in a blissful half-sleep, lulled by the rhythms of these languages. Other times I would wriggle down and away; "Mazik (mischievous one, Little Devil), can't you sit still for five minutes?"
It was my nature to love words, but I also believed in getting about the business of actual adventure just as avidly as I believed in fairy-tale characters such as the Baba Yaga looking out the window of her crooked little house set on chicken feet. I learned poems by heart and thus took them into my heart. They accompanied me as I restlessly explored each new neighborhood we moved to—marking library, park, and the nearest bus stop—to make it mine.
My father was passionate about history. My sister and I walked with him all over New York City. We paused on bridges watching the tugboats while he recounted events such as the Great Triangle Shirtwaist Fire. He carried a Modern Library Palgrave's Golden Treasury of poetry on these walks. I still recollect his sonorous bass booming out:
One more Unfortunate,
Weary of breath,
Rashly importunate,
Gone to her death!
It was from "The Bridge of Sighs," by Thomas Hood, about a homeless, dishonored young woman drowning herself in the Thames. Even my mother, staunch socialist and realist herself, questioned its fitness for us kids. I don't recollect an illustration, but I plainly "saw" her hair in the water.
I sought all books with illustrations. I stroked the shiny color plates. If we could hold up to the light those old Burgess animal books from the Tremont library now, we would see the impress of my pencil where I had traced my favorite pictures over and over.
My sister and I went to the WPA art, craft, and Isadora Duncan dance classes at our Neighborhood Bronx House. We were recognized for our talents and invited into special art classes held on Saturday mornings downtown. They were led by Florence Cane, a painter herself but also an educator on a mission to free kids from their tightly gripped pencils and release "the artist in each of us" like a pigeon to the sky.
Downtown! That meant a subway ride to art class. We went on our own. After class we often walked up to the awesome Forty-second Street library. I was as proud of its children's room with books from all over the world as if I had founded it. We did feel ourselves Citizens of a Great Metropolis. I treasured that pride! I found it echoed in a favorite reading experience—Roller Skates, by Ruth Sawyer—and it expanded into my own 1993 novel, Scooter.
I have come to refer to the ethos of my childhood as bread and roses. It comes from a song of the Lawrence, Massachusetts, textile millworkers during the major strike of 1912. The last lines are:
Our lives shall not be sweated from birth until life closes.
Hearts starve as well as bodies, bread and roses, bread and roses.
This captures my parents', particularly my mother's, deepest desires, not just for her own daughters but for all children and their families and for herself. With little money she found her way for us to paint and sculpt, dance and act, hike and swim and garden as well as read and read. And the experiences of protest and politics were with us always—all of this accompanied by the loud argument and tense emotional drama of our tenements and streets.
I created my books about Rosa and her waitress mother and the chair they work hard to buy, "covered in velvet with roses all over," to express that Bread and Roses. I avoided the pains of those Depression years. It was rather through the magic therapy of language, color, and design that I sought to change the past. I dedicated it to my mother. Though she had passed on, she deserved that lavish chair. And readers deserved a story of an ordinary waitress and her little family's triumph over weariness and trouble.
Though "second generation," I and kids like myself in our New York City neighborhoods were, in a sense, the children of the enlightenment that had come late to the Russia and Poland of our parental families. Many an orthodox Jewish young person, passionate for literature, had hidden in the attic to read a forbidden book by a filched candle stump, then passed it secretly to a dear friend. And these books were not the Fanny Hills and the Lady Chatterley's Lovers but Dickens, Turgenev, Gogol. They were the coin of friendship and a lifeline out of narrow lives.
Books also became my coin of friendship. He or she who would walk to the Tremont Public Library with me, choose books with me, and share in talking about them along with talking about everything else became my friend in a major life activity. There is a strong though meandering line from my earliest experiences with reading to becoming a creator of books for children and leading to my being chosen for the 2009 NSK award. It was the actual occasion of the award ceremonies that stimulated me to gather these thoughts on children's literature into this essay.
I have often mused on the parameters of books, fiction, and nonfiction for children, and the qualities that direct us to treat them as a genre unto itself. I mean something beyond the obvious matters of adult intimacies and sexual life and plots that require a complex knowledge of politics and history or an extensive vocabulary (though unknown words or baffling events never stopped me or my sister from reading a book whose cover drew us in!). Of course, most obviously, fiction for children always has a child as a main character. (It may also be an animal, a traditional stand-in.) And whatever matters of religion or nation or history are in the story, they and the adult characters are seen from a child character's point of view. But what about books intended for grown-up readers, the main character a child, yet mysteriously these books turn out to be not for children? Such a book I think highly of and which comes very close to being an older child's read is Roddy Doyle's Paddy Clarke Ha Ha Ha.
This book has no forbidden subjects like explicit sex, drugs, or brutality other than boys' tough play. There is a good deal of boyhood "fart" talk, suppressed curiosity about adult sex, and marital misery. The vocabulary is not rarefied. The locale, a lower-middle-class housing estate, might be familiar to children in several countries. But to appreciate the richness of the tale, an awareness and an appetite for the subtle play of class and gender, religion and background is essential, and so is an adult's interest in "childhood" per se.
A lot of childhood effort, worry, and whispering goes into cracking the codes of adult life. Children have to be accomplished spies. This fascinated me in reading of Paddy Clarke and many another child bent upon mastering or at least "getting" what is going on upstairs and downstairs and in my lady's chamber, converting ignorance and curiosity into a modicum of knowledge. And of course we adult readers were once children practicing this taxing task and negotiating this move in varying milieus. Our own experiences give some of us a particular thrill (and rueful laughs) when reading recalls it to us. But it's deadly serious business to child readers.
It may be that even examining the character of a particular child is an adult reader's project. Children want adventures. If they . . . (let it reveal something of myself that I keep wanting to say "we" instead of "they") . . . when we children readers find a character that we can inhabit, we don't want to examine that person. We don't even have the experience for it. We believe that life is child life. The child enduring in the inner life of an adult is unknown to us, though we often warm to it when we sense it strongly present in a parent or teacher.
Though children in general are mostly not interested in Childhood per se, I do remember myself as "an advocate for children." I saw children as powerless; victims of injustice. I was introduced to the speeches of Clarence Darrow, the famously crusading lawyer, when I was in the middle grades. I wanted a "cause," as was appropriate in my family, and I practiced in the Darrow style—a soaring rhetoric I made up on behalf of all kids!
Being the center of the universe whenever possible seems natural to children. We do it particularly well when reading by identifying utterly with the characters and their story, shutting out our families and responsibilities in present time and space—what a delight! It is part of the growing-up project to move from that center . . . to learn to include others and take on responsibility (dreaded word!). The books of early adolescence explore growing up, its problems and its bitter sweetness. And bittersweet it is to some children who are deeply invested in childhood, as were I and my most chosen friends.
Books for children are also set apart in that they are charged with the duty to teach or present a moral. People feel this is incumbent in a work for children. But the passion to teach, to share deeply experienced "lessons from life," is embedded in all literature. Perhaps I see it thus because social relevance has been a given throughout my eighty-three years. (In my book Scooter Mrs. Greiner, about to tell a story to her favorite, Elana Rose Rosen, says, "And don't ask me if it has a moral because you know Rachel Greiner wouldn't tell it if it didn't.")
I find that the books I value as a grown-up reader have those same qualities of both intensity and innocence I treasured in books since early childhood. Childhood is a constant uneven move from innocence through experience. A grown-up novel I am currently rereading, A Pigeon and a Boy (translated from Hebrew), has especially brought that home to me. It gives me remembered delight. It is striking that the author, Meir Shalev, also writes for children. The sorrows in this book as well as the joy of the sensual world seem so close in, as they did in my childhood reading, like music playing just for my ear. Is that because (with some luck) very young characters are not quite as used to life's losses? They haven't been as trained to disappointment as adults have. We children's book writers manage to keep some of the effervescence of hopefulness despite our years. Some, like myself, contrived to keep it by vowing not to grow up!
"When will you grow up?" my mother would demand in despair after one dereliction of maturity or another. The answer was "Never!" At age twelve I decided I simply would not accept a life demeaned and reduced of its intensity by the threat of "growing up." The remedy, I and my best friend realized, was to jump off that train at twelve. Menstruation and budding breasts only strengthened our resolve. We made a secret pact. And it has certainly worked some magic and is perhaps an experience common in some form to many writers of children's books.
But beyond a certain suspicion, as well as longing, for the adult world, almost all the emotions—though not the situations—that dwell between the covers of adult books seethe also in children's books.
In the long stretch of time before the printing press, and even after, in much of the world children gathered with everyone else to listen in tribal and clan gatherings and in places of worship to the sagas of our cultures; sexual exploits were part of those tales as well as the details of slaughter in wars. I imagine that "we" children dozed and woke . . . ran around and made trouble and were caught up in worshipful wonder at the doings of heroes and villains and gurus.
Children of a range of ages are moved by Shakespeare, by the Greek plays, by the Odyssey, the Iliad, and by myths. I never forgot the Norse god, Odin, casting his eye into the well called Mimr in search of wisdom or Odysseus putting out the Cyclops's eye, all made impressive by the archaic language of the translations I read. (Did these stories point me to avid, even reckless pursuit of experience?)
I wore glasses at age seven. I was entranced by color and scenery and those grand, large animal paintings of Rosa Bonheur and the illustrations of Arthur Rackham as well as the intense blue skies of that popular artist, Maxwell Parrish. As a budding visual artist I deeply experienced the beauty that came to us through our eyes.
I wore glasses at age seven. I was entranced by color and scenery and those grand, large animal paintings of Rosa Bonheur and the illustrations of Arthur Rackham as well as the intense blue skies of that popular artist, Maxwell Parrish. As a budding visual artist I deeply experienced the beauty that came to us through our eyes. I also understood something about insight, and it made me shiver. I loved the Psalms, which I discovered on my own (our household was determinedly nonreligious). What is man that thou art mindful of him? and He makest me to lie down in green pastures. I did not believe in a God, but I was moved into powerful reveries by the very word "thou."
I was not protected from real-life dramas of heroism or of villainy. As the children of active leftists, my sister, Naomi, and I were exposed to many stories of our nation that were not in our school history books. We knew of the Haymarket hangings related to the fight for an eight-hour day. Right before sleep—that prime time for imagining, so precious to readers and writers—I would dwell on the human forms hanging from the cross trees. When I was a little older, it was the imagined whining of the bombs dropped on the families of Madrid and Guernica in Spain's civil war that invaded my sleep.
Inadequate and limited knowledge; there is certainly that difference between children and adult readers. There's a lot kids can't know, a lot we adults can't bear to tell them. Yet even as we try to shield our own children from stories of brutality, we realize painfully there is no shield from real-life brutality for the children of war, hunger, endemic illness. Children's writers have taken those lives into their books, causing much pro and con discussion. I feel that ours is a literature that must shun despair! I have wondered if I could write a book with a bleak ending; that is tragedy unredeemed by hope. Such is the picture book Rose Blanche, which tells the story of a child regularly bringing food to the concentration camp fence. She is ultimately shot, which ends that story.
It is a beautiful and serious attempt to present the tragic side of heroism to young children. But is it a betrayal of an artist's obligations to childhood? Perhaps figuring out how to tell of the truly awful is what a writer and illustrator owes her child readers.
Of course children know intimately the incomprehensible pains of family life (including the "truly awful"), and often their hearts are full of implication and guilt. But such experience is the fertile ground of the characters and stories of literature for all ages.
Of course children know intimately the incomprehensible pains of family life (including the "truly awful"), and often their hearts are full of implication and guilt. But such experience is the fertile ground of the characters and stories of literature for all ages. I remember how I craved the sorrowful nobility I found in stories, songs, and poetry about tragedy and how I learned poems and songs to rehearse and steep myself in it and raise me above the stomach-knotting dramas of my own life.
Language gave to ordinary jealousy, hate, and fear as well as murder, infanticide, and forty kinds of betrayal a large dimension and universality; the courage to resist, cope, and survive became heroism.
. . . one Monday morning
High upon the gallows tree,
Kevin Barry gave his young life
For the cause of liberty.
My seventh-grade arithmetic teacher put aside the arithmetic syllabus to teach us this on the anniversary of the event. Singing it to myself made this mere, often snotty child into a member of the Human Race, heir to exploits of daring and courage.
There are all sorts of readers, and of course there is no generic child. Even in Hilaire Belloc's Cautionary Verses, meant to warn of the dire results of naughtiness in general, one Henry King dies of eating bits of string, another, Matilda, as a result of "telling dreadful lies," another, neglecting to hold tight to Grandpa's hand at the zoo, is eaten by a lion. . . . All are disobedient, but each is different and shown (in hilarious drawings) as a unique individual.
"Childhood" changes. This is an important fact of life to an aging artist! And even the books we love become irrelevant (although, like former spouses, we once loved them passionately). I don't really know if children much enjoy the above, somewhat arch verses or even classics such as Alice in Wonderland or The Wind in the Willows today. I discovered them in high school. My schoolmates mostly did not care for them, and my own kids only did because I passed on my enthusiasm. Their importance to me lay in their wit. They were a stylistic pleasure, and such pleasures are part of all the arts. I developed early a taste for style and even quaintness. I reveled in the high silliness and language play of Belloc and of Edward Lear, Lewis Carroll, and James Thurber. There was a bit of anglophile and of snobbishness. And glee! I still enjoy reciting, especially if someone chimes in:
"And hast thou slain the Jabberwock?
Come to my arms, my beamish boy!
Oh frabjous day! Callooh! Callay!"
He chortled in his joy.
But over those stalwarts of my childhood reading—books such as The Secret Garden, The Snow Queen, Nobody's Girl and Nobody's Boy, Little Women, and Children of the Soil and Story of a Bad Boy . . . stories I truly adored—I broke my heart, wept, cheered my heroines and heroes on, and learned the deep and lifelong pleasures of Literature. Isn't that what matters . . . to writer and reader, to adult and to child?
New York City
Editorial note: From World Literature Today 84, no. 2 (March 2010): 52–57. For more by Williams, read her illustrated poem, "Bronx Doggerel," in the September 2014 issue, which celebrated the first ten years of the NSK Prize.
Beginning in 1975, Vera B. Williams wrote and/or illustrated sixteen books that received numerous honors and were included in lists of best illustrated books chosen by the New York Times and School Library Journal. She used her graphics training to express her politics, designing many covers for the pacifist magazine Liberation and illustrating Grace Paley's Long Walks and Intimate Talks. In 2013 A Chair for My Mother was included in the New York Public Library's list of "100 Greatest Children's Books of the Last Century."