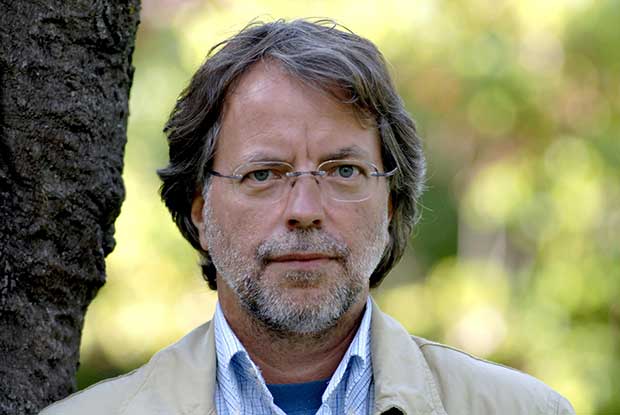 NORMAN, OKLA., Nov. 1, 2013 – Mozambican author António Emílio Leite Couto (Mia Couto) has been chosen by a jury of nine international authors to receive the 2014 Neustadt International Prize for Literature.
The $50,000 prize is sponsored by the University of Oklahoma, the Neustadt family, and World Literature Today, the university's award-winning magazine of international literature and culture.
Jurors convened on the OU Norman campus for deliberations Oct. 31 as part of the annual Neustadt Festival for International Literature and Culture. 
Gabriella Ghermandi, who nominated Couto for the Neustadt Prize, said of him, "He is an author who addresses not just his country but the entire world, all human beings."
Couto is the first Mozambican author to be nominated for and to win the Neustadt Prize. He is considered to be one of the most important writers in Mozambique, and his works have been published in more than 20 languages.
Born in 1955 in Beira, Mozambique, Couto began his literary career in the struggle for Mozambique's independence, during which time he edited two journals. Raiz de Orvalho, Couto's first book of poetry, was published in 1983. His first novel and the novel that was the representative text for the Neustadt, Sleepwalking Land, was published in 1992 to great acclaim and is widely considered one of the best African books of the 20th century.
Couto is known for his use of magical realism as well as his creativity with language. In her nominating statement, Ghermandi wrote, "Some critics have called Mia Couto 'the smuggler writer,' a sort of Robin Hood of words who steals meanings to make them available in every tongue, forcing apparently separate worlds to communicate. Within his novels, each line is like a small poem."
This year, Couto also received the 2013 Camões Prize for Literature, a prestigious award given to Portuguese-language writers.
WLT executive director Robert Con Davis-Undiano remarked, "Mia Couto is trying to lift the yoke of colonialism from a culture by reinvigorating its language. A master of Portuguese prose, he wants to lift that burden one word, one sentence, and one narrative at a time, and in this endeavor he has few if any peers." 
Upon hearing about his win, Couto responded, "This award is timed perfectly, as Mozambique is about to go through a difficult time. For me personally, this award is certainly a relief, a ray of sunshine, at this sad national moment."
The Neustadt Prize is awarded every two years and represents the only international literary award for which novelists, playwrights and poets are equally eligible. Often called the "American Nobel" because of its connection to the Nobel Prize in Literature, the Neustadt Prize is considered to be one of the most important literary prizes in the world. Throughout its history, the Neustadt has boasted 30 laureates, jurors, or candidates that have gone on to receive the Nobel, including Pablo Neruda, Gabriel García Márquez, Orhan Pamuk, Mo Yan, and Alice Munro, among others. 
Couto is the 23rd laureate of the Neustadt Prize and will accept the award on the OU Norman campus during the fall 2014 Neustadt Festival.
About the Neustadt International Prize for Literature
The Neustadt International Prize for Literature is a $50,000 biennial prize funded by a generous endowment from the Neustadt family of Ardmore, Okla., and Dallas. The Neustadt Prize is the first international literary award of its scope to originate in the United States and is one of the very few international prizes for which poets, novelists and playwrights are equally eligible. The charter of the award stipulates that the Neustadt Prize be conferred solely on the basis of literary merit, and each laureate is chosen by a jury of writers that World Literature Today convenes on the University of Oklahoma campus.
About World Literature Today
Founded in 1927, World Literature Today is the University of Oklahoma's bimonthly magazine of international literature and culture. The mission of WLT is to serve the international, state and university communities by achieving excellence as a literary publication, being a sponsor of literary prizes and serving as a cultural center for students. Now in its ninth decade of continuous publication, WLT has been recognized by the Swedish Academy as one of the "best edited and most informative literary publications" in the world, and was recently called "an excellent source of writings from around the globe by authors who write as if their lives depend on it" (Utne Reader, January 2005).
For inquiries, contact the offices of World Literature Today at (405) 325-4531.