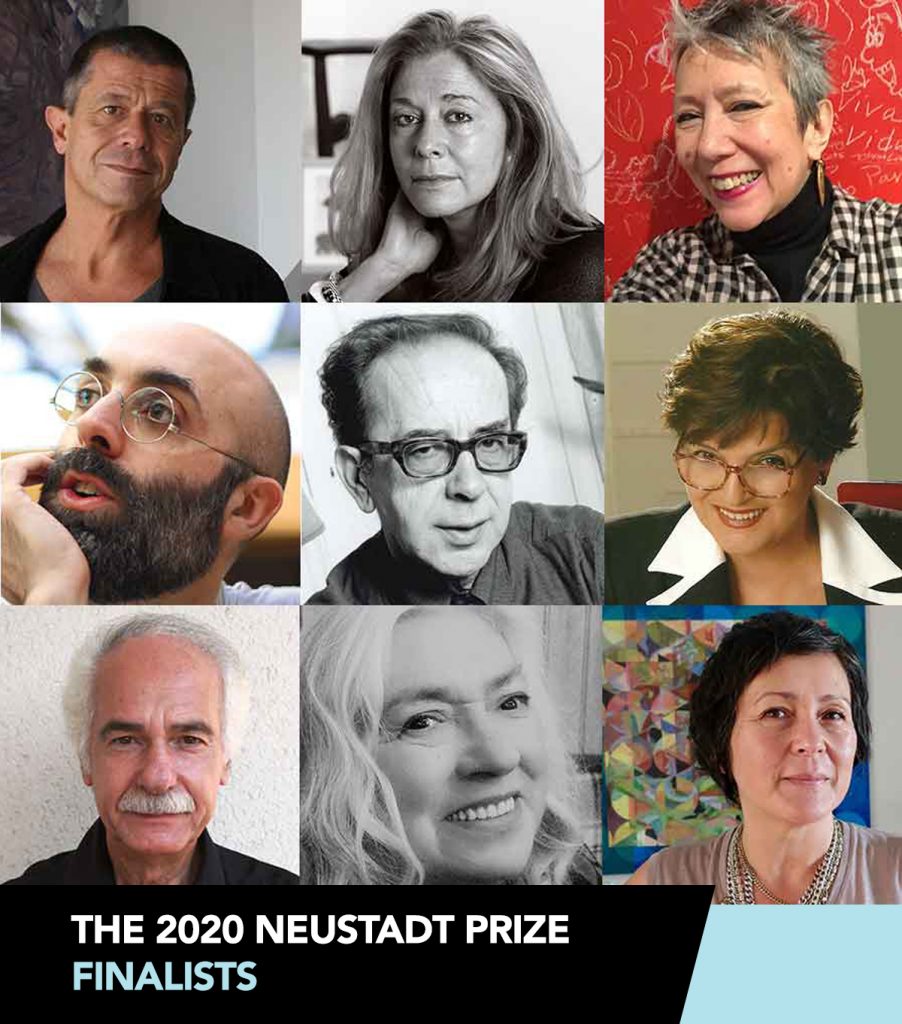 World Literature Today, the University of Oklahoma's award-winning magazine of international literature and culture, has announced finalists for the 2020 Neustadt International Prize for Literature. This prestigious prize recognizes significant contributions to world literature and has a history as a lead-up to the Nobel Prize in Literature.
The nominees (with representative texts noted) for the 2020 Neustadt Prize, which carries a $50,000 cash award, are as follows:
Emmanuel Carrère (France), The Adversary
Jorie Graham (United States), Fast
Jessica Hagedorn (Philippines / United States), Dogeaters
Eduardo Halfón (Guatemala), Mourning
Ismail Kadare (Albania), Broken April
Sahar Khalifeh (Palestine), Wild Thorns
Abdellatif Laâbi (Morocco), Beyond the Barbed Wire
Lee Maracle (Canada), Celia's Song
Hoa Nguyen (Vietnam / United States / Canada), Red Juice
Nine Neustadt jurors, all creative writers, chose the finalists, and they will meet to choose the winner at the 2019 Neustadt Lit Fest, scheduled for Oct. 15-17, hosted by World Literature Today and the University of Oklahoma. The winner will be announced on Oct. 16.
"It is exciting to have such an esteemed group of writers vying for the Neustadt Prize," shared Robert Con Davis-Undiano, executive director of World Literature Today, the prize sponsor. "Literature is a powerful voice that teaches us about the world beyond ourselves. This truly international slate of finalists demonstrates once again that excellent literature knows no borders."
The winner announcement will be made on Wednesday, Oct. 16, during the Neustadt Lit Fest, which this year also honors Margarita Engle, laureate of the 2019 NSK Neustadt Prize for Children's Literature. Engle is a Cuban American author and was the Young People's Poet Laureate from 2017 to 2019. Festival events are free and open to the public.
The Neustadt Prize is the first international literary award of this scope to originate in the United States and is one of the very few international prizes for which poets, novelists, screenwriters and playwrights are equally eligible. Since 2003, it has been awarded every other year, alternating with the NSK Prize, to a living writer in recognition of a significant body of work. Past winners include Nobel Prize recipients Czesław Miłosz, Gabriel García Márquez and Tomas Tranströmer. The 2018 Neustadt Prize winner was Haitian American writer Edwidge Danticat.
Winners of the Neustadt Prize are awarded $50,000, a silver replica of an eagle feather, a prize certificate and a festival hosted in their honor. A generous endowment from the Neustadt family supports the award.
To learn more about the Neustadt prizes or to see the full calendar of events, visit neustadtprize.org.
###
About World Literature Today Founded in 1927, World Literature Today is the University of Oklahoma's award-winning magazine of international literature and culture. The mission of World Literature Today is to serve the international, state and university communities by achieving excellence as a literary publication, a sponsor of literary prizes and a cultural center for students. Now in its ninth decade of continuous publication, World Literature Today has been recognized by the Nobel Prize committee as one of the "best edited and most informative literary publications" anywhere. It was recently called "an excellent source of writings from around the globe by authors who write as if their lives depend on it" (Utne Reader).