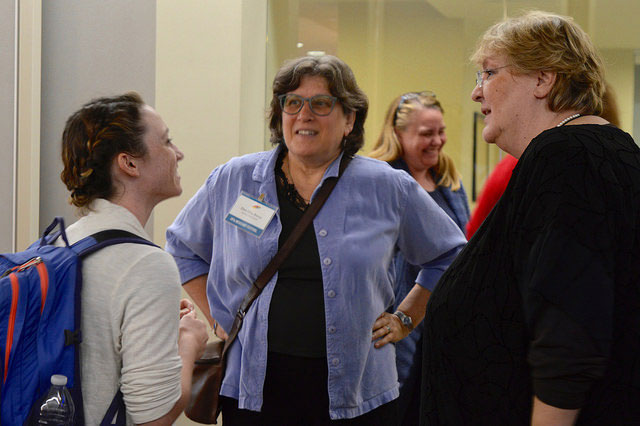 "This is a pretty powerful opportunity." Open Letter Books publisher Chad Post writes for Literary Hub about the unique impact of the Neustadt Prize and the 2016 Neustadt Festival. Read on for more news relating to Neustadt and NSK laureates, jurors, and finalists.
Laureates
"Everything I write seeks answers to the question, 'who am I, where am I, and whose am I?'" Read Dubravka Ugrešić's acceptance speech for the Neustadt Prize.
Poets & Writers, the Journal of Blacks in Higher Education, AWP, Publishing Perspectives, and more media outlets are buzzing about Marilyn Nelson winning the 2017 NSK Neustadt Prize for Children's Literature.
This Brain Pickings article shares NSK laureate Naomi Shihab Nye's remarkable real-life story that inspired her poem "Kindness."
NSK laureate Katherine Paterson will participate in a staged reading of a Christmas play she's co-written with Stephanie Tolan in Greensboro this December.
Via NPR, Daniel Alarcón tells the story behind how a stolen first-edition copy of Gabriel García Márquez's One Hundred Years of Solitude was recovered.
Jurors
"Such willingness to exploit gender for power has an insidious influence." Recent Neustadt juror Miguel Syjuco critiques machismo and chauvinism in Philippines politics and around the world.
The Cornell Chronicle discusses the "playful and personal" in Mukoma Wa Ngugi's second poetry collection titled Logotherapy.
Finalists
Via Literary Hub, Aminatta Forna writes about visiting the Museum of Broken Relationships and "the many ways in which the heart can break."
"I tell him how our people have survived." Recent NSK Prize finalist Jacqueline Woodson shares how she comforted her frightened son after the election results.
The Vermont Humanities Council has selected Woodson's Brown Girl Dreaming for its 2017 iteration of Vermont Reads.
Forbes features recent NSK finalist Lynda Barry's The Greatest of Marlys in its 2016 list of gift ideas for comics fans.