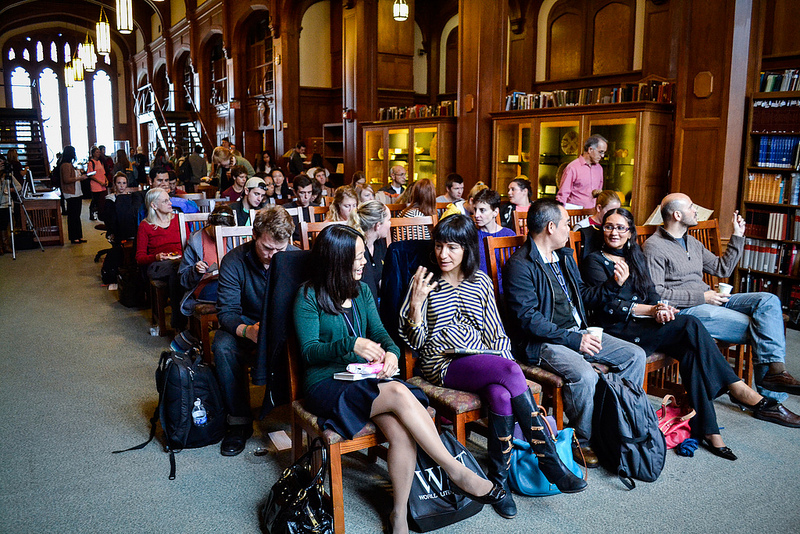 The second day of the Neustadt Festival was once again a huge success. In our first event, we proudly launched two books, Nigerians in Space by Neustadt juror Deji Olukotun and Good Night, Mr. Kissinger by K. Anis Ahmed. We were joined by independent publishing house Ricochet Books, who introduced both authors before each read excerpts from their books. Finally, David Shook from Phoneme Media presented three short films, including Kilometer Zero, about Shook's journey to find Marcelo Ensema Nsang.
Our second event of the day was a conversation with juror Garbriella Ghermandi, who spoke to a room packed with students. "The Italian language is like a blanket that moves with you," she told students, who had come to ask her questions about the language, culture, and literature of Italy.
In the afternoon, jurors Krys Lee and Laleh Khadivi read excerpts from their books to students in the Western History Collections. Students were captivated by Khadivi's vivid portrayal of the 1979 Iranian revolution and the struggles of Iranian immigrants to the United States afterward. Krys Lee read the only North Korean short story from her collection, Drifting House, which portrays the plight of two orphans attempting to escape the DPRK to freedom in China.
The final event of the day was a roundtable discussion on the politics and culture of the Middle East. OU professors Samer Shehata and Mohammad Al-Masri provided brief presentations on the role of language in Middle Eastern identity, outlining the region's religious and political struggles throughout history. Once again, the Western History Collection was standing room only for this highly anticipated event.
There are still two days left in this year's Neustadt Festival. Today we are hosting conversations with NSK Laureate Naomi Shihab Nye and Ibtisam Barakat at the Sam Noble Museum of Natural History, as well as a celebration of music and literature tonight at the Oklahoma Memorial Union. Tomorrow, Naomi will give her keynote address.
To follow along with the events as they are happening, find @NeustadtPrize on Twitter or follow the hashtag, #Neustadt2013.