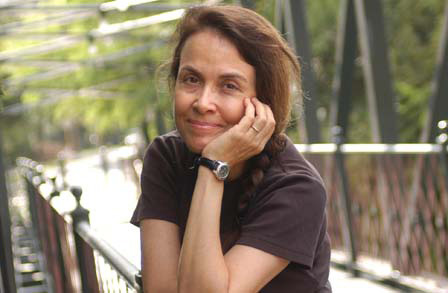 Norman, Okla., September 29, 2012 – Naomi Shihab Nye, the author and editor of thirty-three books, has been named laureate of the 2013 NSK Neustadt Prize for Children's Literature. The NSK Prize is a $25,000 juried award sponsored by the University of Oklahoma and World Literature Today, OU's award-€winning magazine of international literature and culture. Poet William Stafford has praised Nye's work, stating, "Her poems combine transcendent liveliness and sparkle along with warmth and human insight. She is a champion of the literature of encouragement and heart. Reading her work enhances life." The announcement was made at a banquet awarding Indian Canadian novelist Rohinton Mistry the 2012 Neustadt International Prize for Literature. At the banquet, R.C. Davis-Undiano, WLT's executive director, commented that "with her powerful vision and high-quality poetry, fiction, and young-adult literature, Ms. Nye may be one of the most complete and accomplished writers in the world."
The other nominees for the 2012 NSK Prize included Joan Lingard, Demi, Lois Lowry, Zilpha Keatley Snyder, Laurence Yep, Tamora Pierce, and Walter Dean Myers. In her nominating statement, Ibtisam Barakat, the juror who championed Nye for the award, wrote, "Naomi's incandescent humanity and voice can change the world, or someone's world, by taking a position not one word less beautiful than an exquisite poem." She goes on to commend her work by saying, "Naomi's poetry masterfully blends music, images, colors, languages, and insights into poems that ache like a shore pacing in ebb and flow, expecting the arrival of meaning."
Born on March 12, 1952, in St. Louis, Missouri, to a Palestinian father and an American mother, during her high school years Naomi Shihab Nye studied in the Old City of Jerusalem and San Antonio, Texas, where she later received her BA in English and world religions from Trinity University. Her collection of poems 19 Varieties of Gazelle: Poems of the Middle East was a finalist for the National Book Award. Her novel Habibi has been translated into five languages and received five "Best Book" awards. Her poetry collections include A Maze Me: Poems for Girls, Red Suitcase, Words under the Words, Fuel, the best-selling You and Yours, and Transfer. Her books of essays are Never in a Hurry and I'll Ask You Three Times, Are You Okay? Her picture books include Sitti's Secrets, which won the Jane Addams Children's Book Award. She has edited eight anthologies of poems for young readers. Nye has received awards from the Texas Institute of Letters, the Charity Randall Prize from the International Poetry Forum, as well as four Pushcart Prizes. She has been a Lannan Fellow, a Guggenheim Fellow, and a Witter Bynner Fellow. In 1988 she received the Academy of American Poets' Lavan Award, selected by W. S. Merwin. She has been a roving writer-in-residence in many states and countries and continues to live in San Antonio with her husband, photographer Michael Nye. She has worked with Virginia Duncan, executive editor at Greenwillow Books, for twenty years.
The NSK Neustadt Prize for Children's Literature was established by Nancy Barcelo, Susan Neustadt Schwartz, and Kathy Neustadt to encourage high-quality writing for children by honoring an accomplished contemporary writer or illustrator of children's literature. The three sisters are members of a pioneer Oklahoma family whose support of the University of Oklahoma spans more than a half‐century. Their grandmother, Doris Westheimer Neustadt, provided the endowment for the world-renowned Neustadt International Prize for Literature, also awarded byWorld Literature Today, which is widely considered to be the "American Nobel" and one of the most prestigious international literary prizes. Their parents, Walter Jr. and Dolores Neustadt, established an endowed chair, the Neustadt Professor of Comparative Literature, to enhance the directorship of World Literature Today.
This is the sixth NSK Prize to be awarded, following Mildred D. Taylor (2003), Brian Doyle (2005), Katherine Paterson (2007), Vera B. Williams (2009), and Virginia Euwer Wolff (2011). Nye will be presented the $25,000 prize, a silver medallion, and a certificate during the 2013 Neustadt Festival on the campus of the University of Oklahoma (October 29-November 1, 2013).
# # #