Neustadt in the News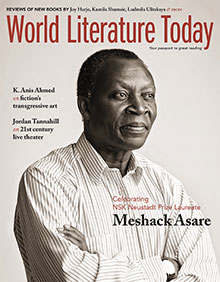 World Literature Today magazine's newest issue showcases Meshack Asare and his recent acceptance of the 2015 NSK Neustadt Prize. The issue includes his acceptance speech, essays, and a tribute written by Asare's nominating juror, Nii Ayikwei Parkes.
Listen to this new NPR interview with NSK Neustadt prizewinner Meshack Asare—he shares his thoughts on identity and inspiration in children's literature.
Author and former Neustadt juror Joanne Leedom-Ackerman recently visited Greece and Macedonia to witness the exodus of refugees and migrants into Europe. Read about her firsthand experience as documented on her blog.
Neustadt finalist Don Paterson has won the Costa Poetry Award for his collection 40 Sonnets.
Recent Neustadt juror Amit Majmudar has been appointed the first poet laureate of Ohio.
Recent Neustadt Prize laureate Rohinton Mistry is among the 69 new appointments to the Order of Canada, one of Canada's highest civilian honors.
Neustadt laureate Mia Couto is among seven artistic masters who will take on a mentoring role in the Rolex Arts Initiative.
Former Neustadt juror Samrat Upadhyay was awarded an NEA fellowship in creative writing.
Fun Finds and Inspiration
Paper and Salt brings in the new year with this honey-cake recipe that celebrates Norwegian playwright, director, and poet Henrik Ibsen and his adherence to rigid routines.
Brain Pickings rounds up 16 elevating resolutions for 2016 by featuring inspiring thinkers and writers including Adrienne Rich, Rainer Maria Rilke, Susan Sontag, John Steinbeck, Grace Paley, and more.