Asare is the first African writer to be awarded the biennial $25,000 Prize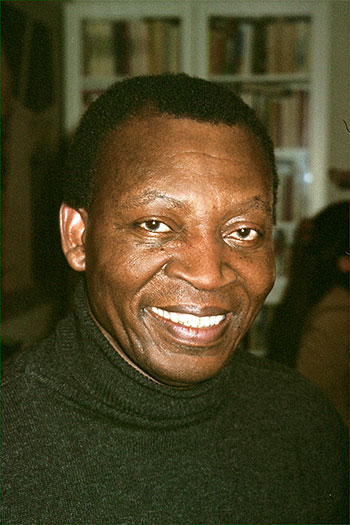 World Literature Today , the award-winning magazine of international literature and culture, today announced Meshack Asare as the winner of the prestigious 2015 NSK Neustadt Prize for Children's Literature. Awarded in alternating years with the renowned Neustadt International Prize for Literature, the biennial NSK Prize recognizes great accomplishments in the world of children's storytelling.
Born in Ghana and currently residing in Germany, Asare is considered one of Africa's most influential children's authors. His representative text cited by the NSK was the multiple award-winning picture book Kwajo and the Brassman's Secret, an Ashanti tale about wisdom versus the temptation of riches, distributed by African Books Collective.
Meshack Asare commented that "it is such a privilege, honor, and delight to receive the distinguished NSK Neustadt Prize for my modest contribution as an African, towards Children's Literature."
Robert Con Davis-Undiano, World Literature Today's executive director who oversees the prize, said, "Meshack Asare is an important children's literature author widely read across Africa. I'm so pleased that the NSK Neustadt Prize for Children's Literature is now introducing him to the rest of the world."
Highly respected within the literary community for its recognition of excellence, the NSK Prize goes to any writer or illustrator of children's or young adult literature worldwide. An international jury of authors, all esteemed as children's and young adult writers, chooses the winner. Nominations are based solely on literary merit as well as the perceived importance of an author's or illustrator's overall contribution to the legacy of children's fiction.
The NSK Prize announcement was made at a Neustadt banquet on Oct. 24, 2014, that honored Mia Couto of Mozambique, winner of the Neustadt International Prize for Literature, commonly referred to as the "American Nobel," owing to many overlaps with the world's biggest award. This is the first time in history that the Neustadt and NSK Prizes have been awarded to authors from the same region (Africa) in consecutive years.
The NSK juror who nominated Asare, Nii Ayikwei Parkes, is of British and Ghanaian heritage. He is a performance poet and social commentator who served in 2005 as BBC Radio 3's Associate Artist-in-Residence and in 2007 as California State University–Los Angeles' British Council Writer-in-Residence. Currently, he is one of 39 writers under the age of 40 from sub-Saharan Africa named to be a part of the Hay Festival's esteemed "Africa39" project. Along with Asare, Parkes will be attending the Neustadt Festival at the University of Oklahoma next fall.
The NSK Prize was first given in 2003 to inaugural recipient Mildred D. Taylor. The award's first 10 years were recently profiled in the September 2014 issue of World Literature Today. Other winners have included Brian Doyle (2005), Katherine Paterson (2007), Vera B. Williams (2009), Virginia Euwer Wolff (2011) and Naomi Shihab Nye (2013). Winners are awarded $25,000, a silver medallion, a certificate of recognition and a literary festival hosted in their honor.