Missing all the magic and fun from the last Neustadt Festival? Watch our opening night video for scenes of jurors Lauren Camp and Fady Joudah, NSK laureate Naomi Shihab Nye, and nominating juror Ibtisam Barakat reading a selection of poems last year.
Neustadt in the News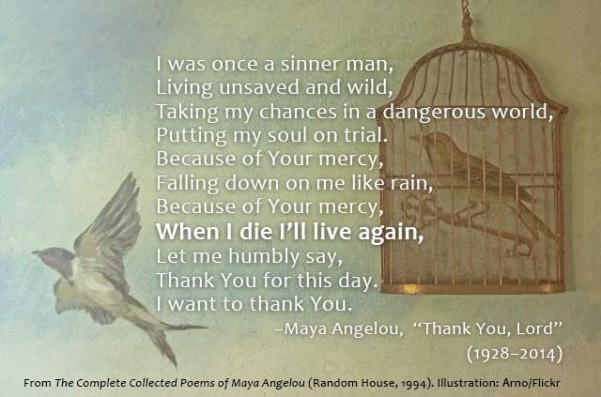 This week, the world said good-bye to Maya Angelou, beloved author and poet. You can read a tribute to her, which includes photos of her visit to Oklahoma for the 1986 Neustadt Festival, at the Neustadt blog.
Recounting her time at the Zürich Meets New York Festival, Anne Posten recalls her experiences with 1986 Neustadt laureate Max Frisch, discussing his enduring literary legacy at Words Without Borders this week.
Lit Prizes
In the first time in the prize's history, the Independent Foreign Fiction Prize was awarded to an Arab author, Hassan Blasim, for his novel The Iraqi Christ.
Fun Finds and Inspiration
Beloved young-adult author John Green talks about several of the background stories to favorite children's books from the around the world.
Substituting a typewriter for a paintbrush, Qwerty artist Pablo Gambao Santos has created a 200-foot-long illustration made completely of individual letters.
What's in a pen name? For the New Yorker's John Wray, it provides a doorway to writerly freedom.