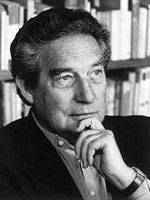 Welcome back to another edition of Neustadt lit links! This week, we celebrated the life and works of Octavio Paz, our 1982 Neustadt laureate, marking what would have been his 100th birthday on Monday, March 31. We also have news about Patricia Grace, Elizabeth Bishop, and Tomas Tranströmer in the links below.
Neustadt in the News
Political tensions are escalating around the world. Several Neustadt jurors, laureates, and nominees have signed a PEN petition to express their desire for greater freedom of expression in Turkey.
Following the celebrations of Octavio Paz's birthday this year came the sad news that his daughter, Helena Paz Garro, passed away at the age of 74.
For Patricia Grace, this week brought great news: in a final ruling, her family's ancestral Maori lands are protected from government construction.
To mark his 80th birthday, Neustadt laureate David Malouf issued a new collection of essays. He recently sat down with the West Australian to talk about the inspiration behind the new collection.
Throughout his life, Neustadt laureate Octavio Paz fought tough intellectual battles, which continue to rage, over 15 years after his death.
For any of our readers in the Pennsylvania area, a special production of the play "Dear Elizabeth," the play about Elizabeth Bishop's letters to Robert Lowell, is currently being staged at the People's Light & Theatre in Malvern all this month.
Lit Prizes
This year's Sheikh Zayed Book Award was given to Abdel Rasheed Mahmoudi's After Coffee.
Announced last Tuesday, the 2014 laureate of the Astrid Lindgren Memorial Award is Swedish author Barbro Lindgren. Visit the ALMA website for all the latest information regarding Lindgren and this prestigious prize for children's and young adult literature.
Also in literary prize news, Colombian author Jorge Franco was named as the laureate of Spain's Alfaguara Novel Prize last Thursday.
Fun Finds and Inspiration
Celebrating International Children's Book Day this year, the Guardian asked readers about their favorite children's books in translation. You can add yours by commenting on the article.
Think reading poetry isn't for you? Think again! These poetry collections are perfect, even if you think you don't like poetry.