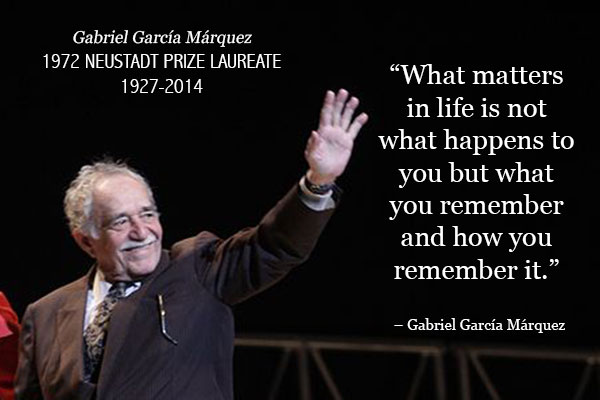 It was a sad week indeed for the Neustadt Prize. 1972 laureate Gabriel García Márquez passed away, leaving the world to mourn the loss of such a great figure and friend. Three tributes are included in the links below.
Neustadt in the News
Last week, the world said good-bye to a true literary great: Gabriel García Márquez passed away in Mexico City at the age of 87. Several tributes have since been published, including on the Neustadt blog and at English PEN.
Before his death, See Colombia, Colombia's official tourism website, listed its top 10 Gabo moments, celebrating the author as the colorful spirit he truly was.
Neustadt laureate David Malouf lead the charge to stop changes to the historical Mitchell Library Reading Room this past month.
Fun Finds and Inspiration
This week, the world celebrated William Shakespeare's 405th birthday with Talk Like Shakespeare Day. Here's a list of 20 words commonly used that we can thank the Bard for inventing.
Citing that China is the "poem kingdom," China Whisper listed its picks for the top 10 most influential Chinese poems. We wonder if our readers might add more.