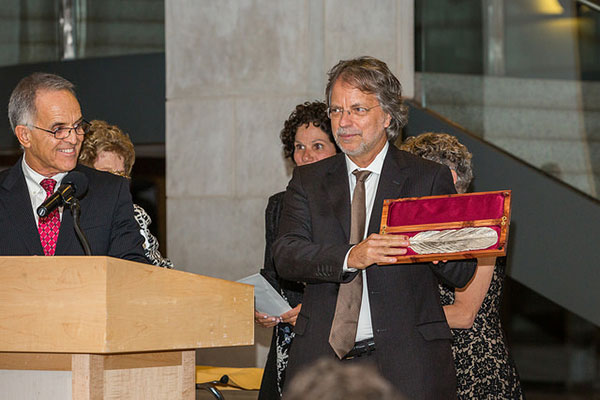 Last week, we celebrated international literature with a focus on Africa during the Neustadt Festival. Thank you to everyone who supported the events both in person and by virtual means!
Even if you weren't able to make it in person, you can view the photos, read the Neustadt blog, and like the Neustadt Prize Facebook page to learn more about this year's festivities.
And, at the final event, we announced the 2015 NSK Neustadt Prize for Children's Literature: Meshack Asare, the first African writer to win the prize.
Neustadt in the News
Extend your Neustadt Festival experience by reading this short story by Mia Couto at the Asymptote blog.
Neustadt laureate Nuruddin Farah sat down with NPR this week to talk about his new novel, Hiding in Plain Sight, as well as about photography, writing and loss, and returning to Somalia.
In David Malouf's most recent book of essays, he guides readers through his personal reading history, providing advice for writers and readers of all ages.
After successfully battling to protect her own lands from government seizure, Neustadt laureate Patricia Grace is now battling to change New Zealand law and prevent other landowners from similar battles.
Lit Prizes
We know our readers will recognize many of the authors and translators on this prestigious list. Presenting the National Book Award finalists!
Since the announcement of Richard Flanagan's Man Booker Prize win, Australian literature has been experiencing a huge increase in countries all around the world.
The India Express ponders a complex question this week: when was the last time the bookies predicted the Nobel Prize correctly?
Fun Finds and Inspiration
Looking for super last-minute pumpkin carving ideas (or perhaps ideas for next year)? These designs are delightful for any lit lover!
And of course, no holiday season is complete without a parcel of poetry to accompany it. Try these Halloween poems this year, compiled by the editors at the Poetry Foundation.