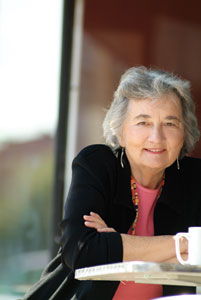 Neustadt in the News
In an interview with NPR Books this week, 2007 NSK laureate Katherine Paterson speaks about her childhood in China and Japan and provides several comments on the censorship of Bridge to Terabithia.
Most people who have read Mildred D. Taylor's Roll of Thunder, Hear My Cry, wouldn't classify it as a scary book, but for 9-year-old Ayana Mathis, its lessons on race represented very real fears she held for herself at the time.
Lit Prizes
Congratulations to Serhiy Jadan for winning this year's Jan Michalski Prize, recognizing world literature. (For more on Jadan's work, see this essay from the November 2014 issue of World Literature Today.)
Cornell University recently announced a major new literary prize for African literature: the Mabati-Cornell Kiswahili Prize.
Fun Finds and Inspiration
We can't think of any greater literary stocking stuffer than a really awesome bookmark. Need ideas? A few great bookmarks for your consideration.
The fine folks over at Asymptote Journal have launched a brand new literary podcast! For the first episode, the discussion centers around mythology, touching on everything from ancient Greece to modern-day Amsterdam.