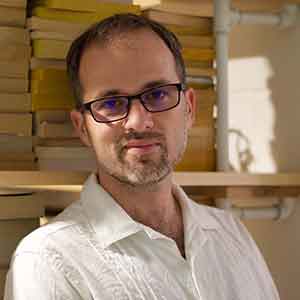 William Alexander is a National Book Award–winning author of unrealisms for young readers. His novels include Goblin Secrets, Ambassador, and A Properly Unhaunted Place. He teaches at the Vermont College of Fine Arts program in writing for children and young adults.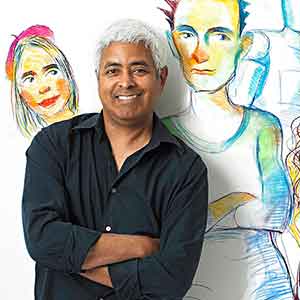 Raúl Colón is the award-winning illustrator of many picture books, including Draw!, an ALA Notable Book and recipient of the International Latino Book Award; Imagine!, an ALA Notable Book, a New York Public Library Best Book for Kids, and a BookPage Best Book; Susanna Reich's José! Born to Dance; Angela's Christmas, by Frank McCourt; and Jill Biden's Don't Forget, God Bless Our Troops. Colón was born in New York City, grew up in Puerto Rico, and now resides in New City, New York, with his family.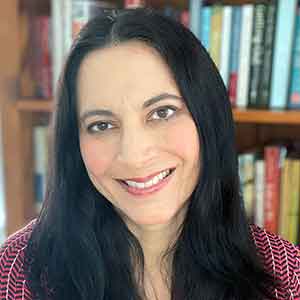 Veera Hiranandani is the award-winning author of several books for young people. Her most recent middle-grade novel, How to Find What You're Not Looking For, received the 2022 Sydney Taylor Book Award, the 2022 Jane Addams Book Award, and was a finalist for the 2022 National Jewish Book Award. It was also named a 2021 Best Children's Book of the Year by Amazon, Kirkus Reviews, and Brightly. The Newbery Honor–winning The Night Diary also received the 2019 Walter Dean Myers Honor Award, the 2018 Malka Penn Award for Human Rights in Children's Literature, and several other honors and state reading list awards. The Night Diary was chosen as a 2018 Best Children's Book of the Year by the New York Times, Washington Post, NPR, Amazon, School Library Journal, and Kirkus Reviews. She is also the author of a novel for young readers, The Whole Story of Half a Girl, and the chapter book series Phoebe G. Green. She teaches creative writing at Sarah Lawrence College's Writing Institute and is working on her next novel.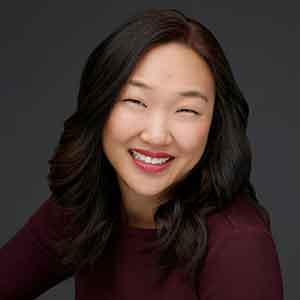 Jessica Kim writes about Asian American girls finding their way in the world. Before she was an author, Jessica studied education at UC Berkeley and spent ten years teaching third, fourth, and fifth grades in public schools. Like Yumi, the comedian-protagonist of Kim's Stand Up, Yumi Chung! (2020), Jessica lives with her family in Southern California and can't get enough hot Cheetos, stand-up comedy, and Korean barbecue.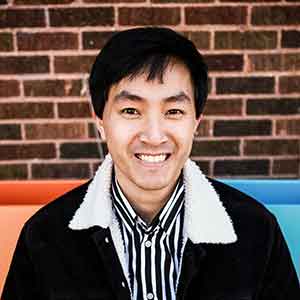 Trung Le Capecchi-Nguyen (Trung Le Nguyen, professionally) is a Vietnamese American comic book artist and writer from Minnesota. He was born in a refugee camp somewhere in the Philippine province of Palawan. Trung's first original graphic novel, The Magic Fish, was published in 2020 through Random House Graphic, an imprint of Penguin Random House. It won two Harvey Awards. Trung has also contributed work for DC Comics, Oni Press, Boom! Studios, and Image Comics. He currently lives in Minneapolis, Minnesota, and raises three very spoiled hens. He is fond of fairy tales, kids' cartoons, and rom-coms of all stripes.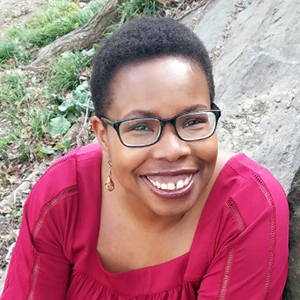 Olugbemisola Rhuday-Perkovich is the author of several children's books, including Operation Sisterhood, It Doesn't Take a Genius, 8th Grade Superzero, and Two Naomis, co-authored with Audrey Vernick, which was nominated for an NAACP Image Award. She also writes picture books, easy readers, and nonfiction books like Saving Earth: Climate Change and the Fight for Our Future, Someday Is Now: Clara Luper and the 1958 Oklahoma City Sit-Ins, and Mae Makes a Way: The True Story of Mae Reeves, Hat and History Maker. She is a member of the Brown Bookshelf and editor of the We Need Diverse Books anthology The Hero Next Door. Olugbemisola is a Jamaican Nigerian New Yorker who lives with her family in NYC where she writes, makes things, and needs to get more sleep.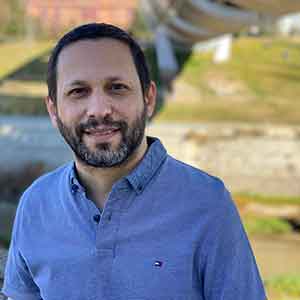 Lawrence Schimel is a bilingual author, writing in both Spanish and English, who has published over 120 books in a wide range of genres. His books have won the Lambda Literary Award (twice), the Crystal Kite Award from the Society of Children's Book Writers and Illustrators, and a White Raven from the International Youth Library in Munich, and have been chosen for IBBY's Outstanding Books for Young People with Disabilities three times. His writing has been translated into over forty languages. He is also a prolific literary translator, into both English and Spanish, who has translated over 130 books of fiction, poetry, essays, graphic novels, and works for children. With Layla Benitez-James, he won a 2022 NEA Translation Fellowship to translate Hija del Camino, by Lucía Asué Momío Rubio. He has also won a PEN Translates Award from English PEN (twice) and the Cliff Becker Book Translation Award, among other honors.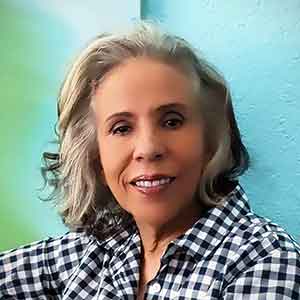 Brenda Woods was born in Cincinnati, Ohio, but grew up in Los Angeles, California. Her maternal family is from Louisiana: "We were raised by Southern hands." Early on, books became important, and she has always been an avid reader. "It appears I was born creative and artistic, but my creative drive had to be narrowed and disciplined. Finally, I zeroed in on writing," she claims. Collage is currently her preferred art form, and a love of music remains a constant. She is a graduate of California State University, Northridge. Her award-winning books for young readers include The Unsung Hero of Birdsong, USA, The Blossoming Universe of Violet Diamond, The Red Rose Box, and Saint Louis Armstrong Beach. Her most recent book, When Winter Robeson Came, is a Junior Library Guild Gold Standard Selection. She is the mother of two adult sons and lives in Nevada.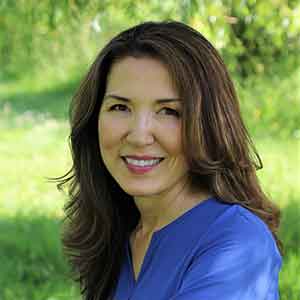 M. O. Yuksel is the award-winning author of the picture book In My Mosque, illustrated by Hatem Aly (2021), which is an American Library Association Notable Book, a School Library Journal Best Book, and a Junior Library Guild Gold Standard selection. Yuksel is also the author of One Wish: Fatima al-Fihri and the World's Oldest University, illustrated by Mariam Quraishi (2022). Her forthcoming books include Ramadan Kareem, illustrated by Hatem Aly (2024), and Sami's Special Gift: An Eid Al-Adha Story, illustrated by Huseyin Sonmezay (2024). Her books are inspired by her Muslim Uzbek-Turkish heritage and her desire to bring diverse stories to children.