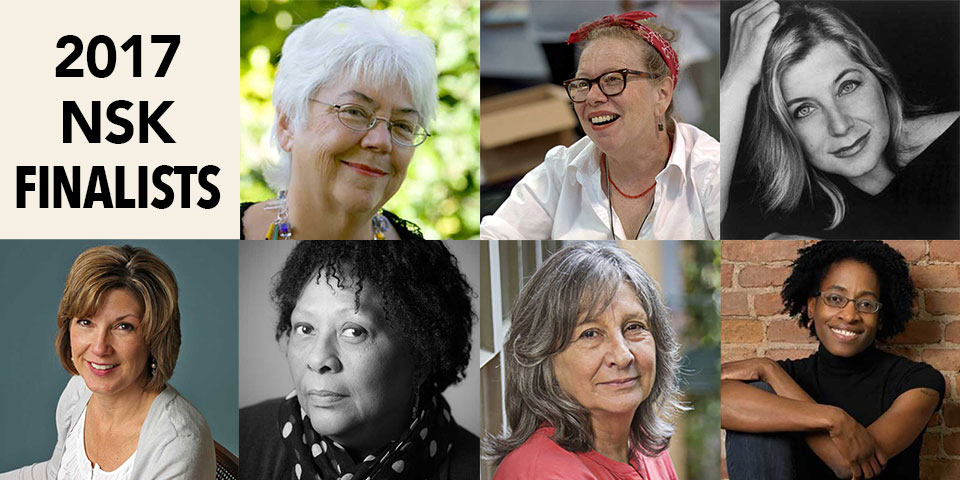 Nominees for the $25,000 children's literature award selected by jury panel of their peers
NORMAN, Okla. (June 14, 2016) – World Literature Today, the University of Oklahoma's award-winning international literature and culture magazine, today announced via Facebook Live the shortlist of finalists for the $25,000 2017 NSK Neustadt Prize for Children's Literature. An offspring of the prestigious Neustadt International Prize for Literature, the biennial NSK Prize celebrates the importance of children's and young-adult literature and the impact it has on our children's minds.
The nominees for the 2017 NSK Neustadt Prize for Children's Literature are:
Alma Flor Ada
Lynda Barry
Lori Marie Carlson
Candace Fleming
Marilyn Nelson
Ema Wolf
Jacqueline Woodson
Finalists were chosen by members of a nine-person jury panel of their peers, fellow authors working and publishing today. In the next steps of the process, the jury will convene to discuss the contributions of the individual nominees to children's literature and eventually select the 2017 NSK winner.
This is a year full of firsts for the award. Specifically, it is the first time in either NSK or Neustadt Prize history that all finalists have been women. It is also the first time in the history of either prize that jury members have nominated the same author three times in the same year: Jacqueline Woodson, who was also a double nominee in 2011. Jury panelists nominate authors independently of one another, so duplication is possible though uncommon.
"We are ecstatic to have such a diverse and powerful group of voices representing the NSK Prize this year," shared R.C. Davis-Undiano, executive director of World Literature Today, which sponsors the NSK Prize. "Children's literature is a powerful device that both inspires and influences young minds to think in new and creative ways. By recognizing these authors and their works, we take a moment to reflect on just how important these stories are, not just for children, but for society at large."
In addition to the cash prize, the NSK Prize winner will also receive a silver medallion, a certificate and a literary festival hosted in her honor in fall 2017 at the University of Oklahoma, which will be free and open to the public. The winner's announcement will be made at a banquet ceremony on October 28, 2016, during the Neustadt Festival of International Literature and Culture honoring the 2016 Neustadt laureate, Dubravka Ugrešić.
Since 2003, the NSK Neustadt Prize has been awarded every other year (alternating with the Neustadt International Prize for Literature) to a living writer or author-illustrator in recognition of significant achievement in children's or young-adult literature. Past winners include Mildred K. Taylor, Katherine Paterson, and Meshack Asare.
A full listing and biographies of the jury members and finalists is on the Neustadt Prize website. To learn more about the $25,000 NSK Neustadt Prize or the $50,000 Neustadt International Prize, or to see the full calendar of events as details become available, visit neustadtprize.org.