The Visiting Authors for the 2015 Neustadt Festival of International Literature & Culture
Meshack Asare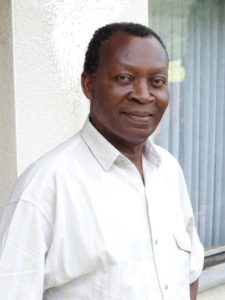 The 2015 NSK Prize Laureate
Meshack Asare is a gifted Ghanaian author-illustrator who has won international acclaim for a rare combination of literary and artistic talent, as revealed in his storybooks. He is not only a creative writer of considerable distinction but also an artist of international repute whose illustrations capture the mood of the verbal text as well as vividly evoke the desired response.
Asare has won many prestigious national and international awards as a writer and illustrator of books for children and young adults and is widely acclaimed for his skillful weaving of cultural traditions and realities of daily life into picture storybooks for children. He has been applauded for striving to celebrate both diversity and universality in his books, which have been translated into many languages: Danish, Dutch, German, Swedish, Japanese, Portuguese, Spanish, Italian, French, Russian, and other European languages in addition to being read around Africa.
Nii Ayikwei Parkes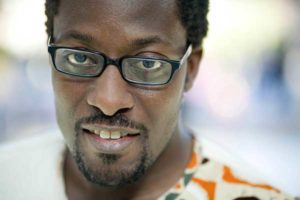 A 2007 recipient of Ghana's national ACRAG award for poetry and literary advocacy, Nii Ayikwei Parkes is the author of the acclaimed hybrid literary novel Tail of the Blue Bird, which was shortlisted for the 2010 Commonwealth Prize and has since been translated into Dutch, German, Japanese, and French. His book of poetry, The Makings of You, includes the poem "Barter," which was used in the 2013 Poems on the Underground London series. Parkes writes for children under the name K. P. Kojo and his book of Ananse stories, The Parade, was selected for the 2012 USBBY's Outstanding International Books list in the United States and has recently been translated into Korean. In 2011 he received a grant from the James Irvine Foundation for a series of talks in California and served on the panel of judges for the Commonwealth Prize. In 2014 the French translation of Tail of the Blue Bird,Notre Quelque Part, won France's Prix Mahogany and Parkes was selected as one of Africa's thirty-nine most promising authors under forty for the World Book Capital Africa 39 Project.
Alison Anderson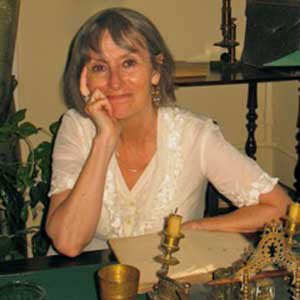 Alison Anderson is a literary translator and writer. Anderson grew up on the East Coast of the United States, then moved to Switzerland where she obtained her undergraduate degree in Russian and French and a master's in translation studies. After many years teaching English as a foreign language in Europe, she moved to northern California and gradually began her career as a literary translator with a work by J.M.G. Le Clézio (who went on to win the Nobel Prize). In 2003 she received an NEA grant for her translations of lyric essays by Christian Bobin. Since then she has returned to Switzerland and now works full time as a translator with over thirty books published, including Muriel Barbery'sThe Elegance of the Hedgehog, four novels by Amélie Nothomb, and most recently Christian Bobin's The Woman in White. She is also a novelist in her own right; her third novel, The Summer Guest, is forthcoming in 2015.
Rita Keresztesi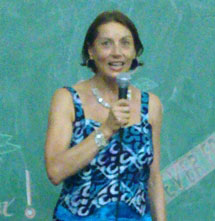 Rita Keresztesi is an associate professor and director of Graduate Studies in the Department of English at the University of Oklahoma. She teaches courses on ethnic American modernism, the Harlem Renaissance, Black Arts/Black Power, the postcolonial/West African cinema, and theory and cultural studies. Her interdisciplinary interests include Afro-Caribbean and West African culture and politics in film and music. She received her PhD from UC Santa Cruz in 1999 and was a Fulbright Scholar at the Department of Anglophone Studies, University of Ouagadougou, Burkina Faso, West Africa, from September 2010 through July 2011. Her books include Strangers at Home (University of Nebraska Press, 2005) and The Western in the Global South (Routledge, 2015), which she coedited.
Porochista Khakpour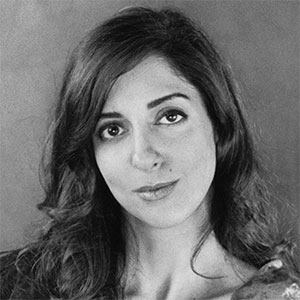 Porochista Khakpour is a novelist, essayist, journalist, and professor who was born in Tehran, raised in Los Angeles, and now lives in New York City. She is the author of the forthcoming memoir Sick (HarperPerennial, 2017) and the novels The Last Illusion(Bloomsbury, 2014)—a 2014 "Best Book of the Year" according to NPR, Kirkus, Buzzfeed, Popmatters, Electric Literature, and more—andSons and Other Flammable Objects (Grove, 2007)—the 2007 California Book Award-winner in "First Fiction," one of the Chicago Tribune's "Fall's Best," and a New York Times editor's choice. She has received fellowships from the NEA, Yaddo, Ucross, the Sewanee Writers' Conference, Northwestern University, the University of Leipzig, and many others. Her writing has appeared or is forthcoming in many publications around the world. She is currently contributing editor at The Offing, a channel of the Los Angeles Review of Books, and writer in residence at Bard College.
Valeria Luiselli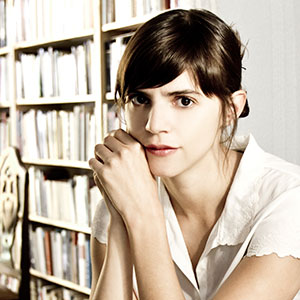 Valeria Luiselli is a novelist and writer who was born in Mexico and grew up in South Africa. She is the author of the internationally acclaimed novel Faces in the Crowd and a book of essays entitled Sidewalks, both translated into multiple languages and published in the United States in 2014 by Coffee House Press. Her most recent novel is The Story of My Teeth(Coffee House Press, 2015). Her writing has appeared in the New York Times, the New Yorker, Granta, and McSweeney's, among other publications. In 2014 her novelFaces in the Crowd received the Los Angeles Times Art Seidenbaum Award for First Fiction, and she also received the National Book Foundation's "5 under 35" award. She currently lives in New York City.
Amit Majmudar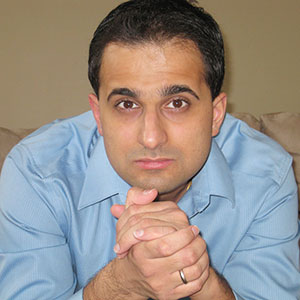 Amit Majmudar is a diagnostic nuclear radiologist, poet, and writer who lives in Columbus, Ohio. His poetry and prose have appeared in the New York Times, the New Yorker, the Atlantic Monthly, the Best American Poetry anthology (2007, 2012), theBest of the Best American Poetry 1988–2012,Poetry, Granta, Poetry Daily, and several other publications, including the eleventh edition of the Norton Introduction to Literature. His first poetry collection, 0°, 0°: Poems (Northwestern University Press, 2009), was a finalist for the Poetry Society of America's Norma Faber First Book Award. His second poetry collection, Heaven and Earth, was selected for the 2011 Donald Justice Prize. He also blogs for the Kenyon Review and has published two critically acclaimed novels, Partitions (2011) and The Abundance (2013). His next collection of poetry, Dothead, is forthcoming from Knopf in 2016.
Valzhyna Mort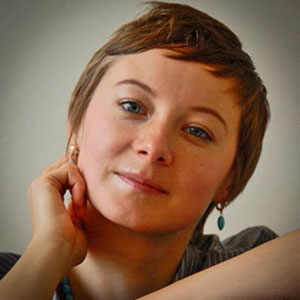 Valzhyna Mort is a Belarusian poet and translator. Mort is the author of Factory of Tears (2008) and Collected Body (2011), published by Copper Canyon Press. She is the editor of Something Indecent: Poems Recommended by Eastern European Poets(Red Hen, 2013) and co-editor of Gossip and Metaphysics: Prose and Poetry of Russian Modernist Poets (Tupelo Press, 2014). Her poems and translations have appeared in Best American Poetry 2014, Guernica, New Letters, Poetry, Poetry International, The Common, and Virginia Quarterly Review. Her honors include a Lannan Foundation Fellowship, the Bess Hokin Prize from Poetry, the Burda Poetry Prize for Eastern European Authors (Germany), and the Crystal of Vilenica Award (Slovenia). Mort is also the recipient of a 2016 fellowship from the Amy Clampitt Residency. Born in Minsk, Belarus, she lives in the United States and currently teaches at Cornell University.
Mũkoma wa Ngũgĩ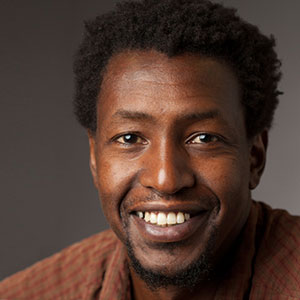 Mũkoma wa Ngũgĩ is a Kenyan poet and author. He is an assistant professor of English at Cornell University and author of the novelsBlack Star Nairobi (2013), Nairobi Heat(2009), and a book of poems entitled Hurling Words at Consciousness (2006). A novel, Mrs. Shaw (Ohio University/Swallow Press), and a collection of poems, Logotherapy (Africa Poetry Fund/University of Nebraska Press), are forthcoming in 2015 and 2016, respectively. He is co-founder of the Mabati-Cornell Kiswahili Prize for African Literature and co-director of the Global South Cultural Dialogue Project at Cornell University. The goal of GSP is to facilitate public conversations among writers and scholars from Africa, Latin America, and Asia as well as the West.
Jessica Pearson-Patel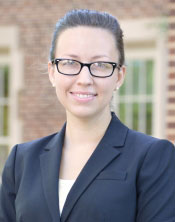 Jessica Pearson-Patel is a historian of France and an assistant professor of European Studies in OU's College of International Studies. Her research interests include the French empire, international organizations, and public health and development. She is currently working on a book project entitled The Colonial Politics of Global Public Health: France and the United Nations in Postwar Africa. At OU, she teaches courses on race and immigration, decolonization, and women and gender in contemporary Europe. Dr. Pearson-Patel received her PhD in French studies and history from New York University in 2013 and was an Andrew W. Mellon Postdoctoral Fellow in the Humanities at Tulane University in 2013–2014.
Jordan Tannahill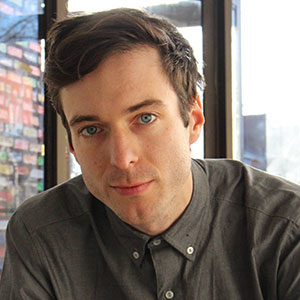 Jordan Tannahill is a Canadian playwright, theater director, and filmmaker. He was selected as the Canadian Artist of the Year in 2014, and his plays explore themes of gender politics, youth culture, and marginalized identity through the playful combination of documentary elements and magic realism. His plays have been presented across Canada, and his films have screened at such venues as the Toronto International Film Festival, the Art Gallery of Ontario, and the British Film Institute. Tannahill received the 2014 Governor General's Award for Drama for his book Age of Minority: Three Solo Plays,the 2014 John Hirsch Prize for directing, and a 2013 Dora Award for rihannaboi95, a play performed over Internet live-stream. His production of Sheila Heti's All Our Happy Days Are Stupid recently enjoyed sold-out runs at Harbourfront Centre's World Stage and The Kitchen in New York City. He teaches at the National Theatre School of Canada, and his book Theatre of the Unimpressed was published by Coach House Press in spring 2015.
Padma Viswanathan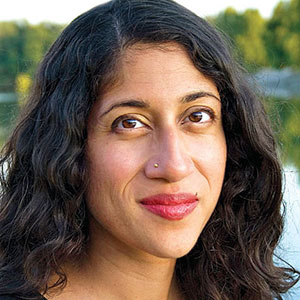 Padma Viswanathan is a Canadian novelist and playwright. Viswanathan's first novel, The Toss of a Lemon (Random House, 2008), has been published in eight countries and was a finalist for the Commonwealth (Regional) First Book Prize, the Amazon.ca First Novel Prize, and the PEN Center USA Fiction Prize. Her second novel, The Ever After of Ashwin Rao(Random House, 2014), was a national best-seller in Canada and a finalist for the Scotiabank Giller Prize. She is also known for her plays and short stories. Her short stories have been published in Subtropics, New Letters, PRISM International,Boston Review, and Malahat Review. She now lives in Fayetteville, Arkansas, where she is an assistant professor of creative writing.
Wang Ping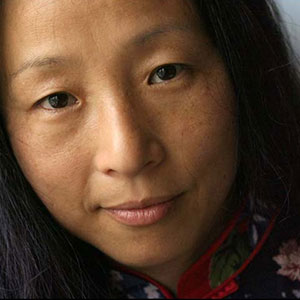 Wang Ping is a Chinese American poet, writer, and artist. She was born in Shanghai and came to the United States in 1986. Her most recent works include Flying: Life of Miracles along the Yangtze and Mississippi, a memoir forthcoming from Calumet Press; Ten Thousand Waves, a poetry collection (Wings Press, 2014); and Flash Cards: Poems by Yu Jian, co-translated with Ron Padgett (Zephyr Press, 2010). Aching for Beauty: Footbinding in China (2000) won the Eugene Kayden Award for Best Book in the Humanities. The Last Communist Virgin (2007) won the 2008 Minnesota Book Award and Asian American Studies Award. She has also been the recipient of awards from the National Endowment for the Arts, a Bush Artist Fellowship, Lannan Foundation Fellowship, and McKnight Artist Fellowship, among many others.