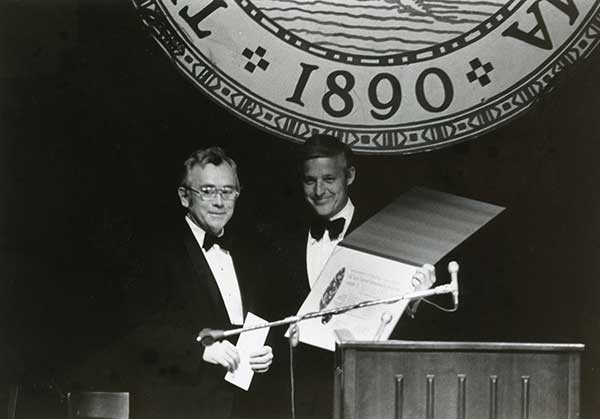 "To my mind Josef Škvorecký is one of the finest living writers. His two short novels The Bass Saxophone and The Legend of Emöke I put in the same rank as James Joyce's The Dead and the very best of Henry James's shorter novels."—Graham Greene (WLT 54, Autumn 1980)
Josef Škvorecký (1924–2012) was a Czech author and publisher. After receiving his PhD in philosophy, Škvorecký began to write novels, which were banned by the Communist government of Czechoslovakia. Many of his works espoused democratic ideals that threatened the state, but his novels helped to usher in the Prague Spring in 1968. When the Russian army invaded Czechoslovakia that same year, Škvorecký and his wife sought asylum in Canada, where the pair founded a publishing house that printed banned Czech and Slovak books. Škvorecký resided in Canada for the remainder of his life. Among his numerous published works are novels, novellas, essays, and screenplays. His novels include Zbabělci (1958; Eng. The Cowards, 1970), Lvíče (1969; Eng. Miss Silver's Past, 1974), Tankový prapor (1969; Eng. The Republic of Whores, 1992), and Příběh inženýra lidských duší (1977; Eng. The Engineer of Human Souls, 1984).
In his encomium speech in 1980, nominating author Arnošt Lustig praised Škvorecký, saying: "Like Franz Kafka, Josef Škvorecký is a man who writes in a minor language and has become, in translation, the spokesman for the mind and soul of people in far greater numbers than the original language could have reached" (WLT 54, Autumn 1980).
1980 Neustadt Jurors and Finalists

JURORS
FINALISTS
Luis Amorim de Sousa (Portugal)
Alberto de Lacerda (Portugal)
André Brink (South Africa)
Breyten Breytenbach (South Africa)
Claude Esteban (France)
Yves Bonnefoy (France)
Thomas Keneally (Australia)
Günter Grass (West Germany)
Yotaro Konaka (Japan)
Kim Chi Ha (South Korea)
Shiv K. Kumar (India)
Mulk Raj Anand (India)
Arnost Lustig (Czechoslovakia/USA)
Josef Škvorecký(Czechoslovakia/Canada)
Vasa D. Mihailovich (Yugoslavia/USA)
Miroslav Krleza (Yugoslavia)
Muriel Rukeyser (USA)
Kim Chi Ha (South Korea)
George Savidis (Greece)
Yannis Ritsos (Greece)
Alexander Scott (Scotland)
Norman Maccaig (Scotland)
"Whenever I think of the 1950s, a decade branded by the establishment's notion of a collective we, it is always in terms of 'I,' whereas I never think of the 1960s, when individualism was flourishing, in any terms other than 'we'—'we' referring to us Czech writers who, having painted our world in rosy hues for so long, desired to show the face of our native land and its people exactly as we saw them and loved them, without the pink makeup."
—Josef Škvorecký (Czechoslovakia), 1980 Neustadt Laureate