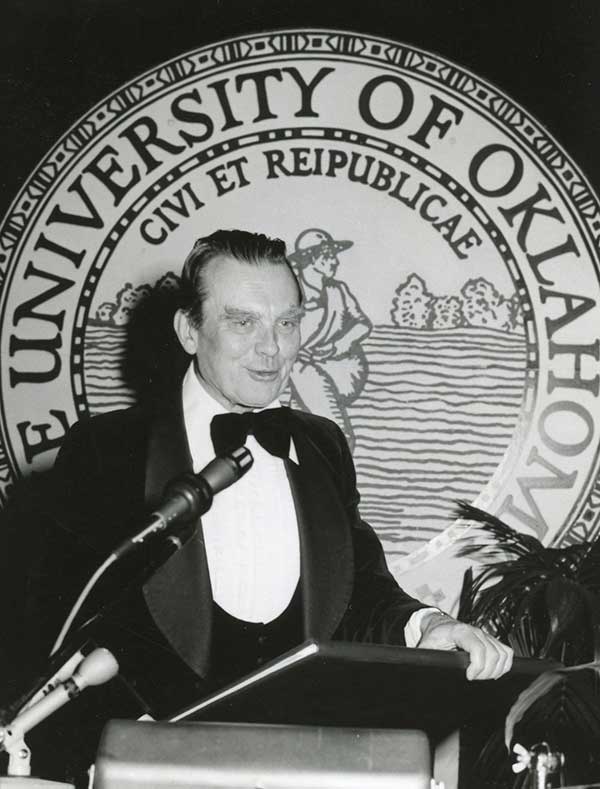 "The example of Czesław Miłosz inspires hope. He did that which is now imperative for people leaving the countries of Eastern Europe to do: he preserved his spiritual integrity and made his way back to the motherland."—Tomas Venclova, "Czesław Miłosz: Despair and Grace" (WLT 52, Summer 1978)
Czesław Miłosz (1911–2004) was a poet, writer, and translator born in the village of Szetejnie in a district that today is part of Lithuania. His first book of poetry was published in 1934. After World War II, which he spent in Warsaw, Miłosz defected to Paris in 1951, and the Communist government of Poland banned his works. In 1960 he immigrated to the United States, where he began teaching at the University of California at Berkeley. It was not until the Iron Curtain fell that Miłosz was able to return to Poland, and he split the remaining years of his life between Poland and the United States. Among his very long list of works, the most well known are Zniewolony umysł (1953; Eng. The Captive Mind), Zdobycie władzy (1955; Eng. The Seizure of Power), The Witness of Poetry (1983), and Nieobjęta ziemia (1984; Eng. The Unattainable Earth, 1986). Miłosz's Selected and Last Poems, 1931–2004 (Ecco Press), selected by Robert Hass and Anthony Milosz, were published in 2011. In addition to the Neustadt Prize, Miłosz received the Nobel Prize in Literature in 1980. Additionally, 2011 was named "The Miłosz Year," and many literary festivals were organized around the world in honor of Miłosz's contributions to world literature.
"I have no hesitation whatsoever in stating that Czesław Miłosz is one of the greatest poets of our time, perhaps the greatest," said nominating author Joseph Brodsky. "Even if one strips his poems of the stylistic magnificence of his native Polish (which is what translation inevitably does) and reduces them to the naked subject matter, we still find ourselves confronting a severe and relentless mind of such intensity that the only parallel one is able to think of is that of the biblical characters" ("Presentation of Czesław Miłosz to the Jury," WLT 52, Summer 1978).
1978 Neustadt Jurors and Finalists

JURORS
FINALISTS
Tuomas Anhava (Finland)
Anthony Powell (England)
Thorkild Bjørnvig (Denmark)
Nadezhda Mandelstam (USSR)
Joseph Brodsky (USSR/USA)
Czesław Miłosz (Poland)
Antônio Candido (Brazil)
Carlos Drummond de Andrade (Brazil)
Walter Helmut Fritz (West Germany)
Zbigniew Herbert (Poland)
Ágnes Gergely (Hungary)
János Pilinszky (Hungary)
Wolfgang Kraus (Austria)
Elias Canetti (Austria/England)
R. K. Narayan (India)
Graham Greene (England)
William Jay Smith (USA)
Eudora Welty (USA)
Derek Walcott (West Indies)
V. S. Naipaul (West Indies/England)
Andrée Chedid (Egypt/France)
Georges Schéhadé (Lebanon/France)
"One of the essential attributes of poetry is its ability to give affirmation to things of this world."
—Czesław Miłosz (Poland), 1978 Neustadt Laureate
---
"When our historical and individual existence is filled with horror and suffering, we tend to see the world as a tangle of dark, indifferent forces. And yet human greatness and goodness and virtue have always been intervening in that life which I lived, and in my writings have some merits to the extent that they are not deprived of a feeling of gratitude."
—Czesław Miłosz (Poland), 1978 Neustadt Laureate