NEWS RELEASE
Kate Peters
Sr. PR Director, COHN
919-606-5612
[email protected]
Robert Con Davis-Undiano
Executive Director, World Literature Today
405-325-4531
[email protected]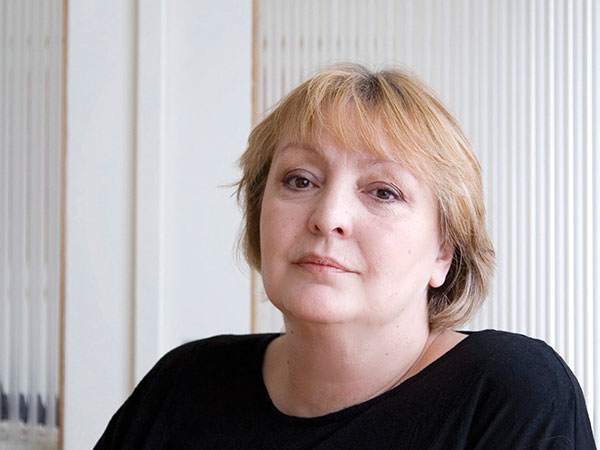 Dubravka Ugrešić Announced as 2016 Winner of Prestigious Neustadt International Prize for Literature
Ugrešić to be awarded $50,000 prize
NORMAN, OKLA. (Friday, Oct. 23, 2015) – World Literature Today, the University of Oklahoma's award-winning magazine of international literature and culture, announced late Friday evening that novelist and essayist Dubravka Ugrešić has been named the 24th laureate of the renowned Neustadt International Prize for Literature. Awarded in alternating years with the NSK Neustadt Prize for Children's Literature, the Neustadt Prize recognizes outstanding literary merit in literature worldwide.
Born in the former Yugoslavia and now residing in Amsterdam, Ugrešić is considered one of Europe's most distinctive novelists and essayists. Marked by a combination of irony and compassion, her books have been translated into more than 20 languages, and she is the winner of several other major literary prizes, including the Austrian State Prize for European Literature (1998) and Jean Améry Essay Prize (2012). She was also a finalist for the Man Booker International Prize in 2009, and her work Karaoke Culture (2011) was a finalist for the National Book Critics Circle Award for Criticism.
Allison Anderson, an American literary translator and writer residing in Switzerland, nominated Ugrešić and served as one of nine jurors on the 2016 Neustadt Prize panel. She commented that "Dubravka's win is a double win for me because she is a non-[native] English speaker and a woman. I came across her work back in 1997 when I was on contract to teach English in Croatia and fell in love with her essays. As someone who voluntarily went into exile, she describes the shared experience of solitude with her stories of refugees. She covers injustice, corruption and everything that's wrong in the world, but in a quiet way."
Anderson notified Ugrešić of her win late Thursday, after the jury convened. "I'm delighted to win the prize, especially in light of such strong competition. I am already looking forward to being there with World Literature Today for the festival in 2016," said Ugrešić.
Robert Con Davis-Undiano, World Literature Today's executive director, conveyed his enthusiasm over the decision: "As is always the case, there was a stellar list of candidates this year, and the jury had to work very hard. One would be hard pressed to find a more topical and relevant subject than her honest and compelling stories about how refugees struggle. We are honored to recognize and hopefully further elevate Ms. Ugrešić's work throughout the U.S. and world."
Highly respected within the literary community for its recognition of excellence, the Neustadt Prize is often referred to as the "American Nobel" for its reputation as a lead-up to the Swedish Academy's annual selection. Any living author writing from anywhere in the world is eligible for the Neustadt prize. The jury is comprised of acclaimed international authors, and that fact helps to keep external pressure from booksellers, publishers, and others who may have interest in influencing the outcome.
The Neustadt Prize announcement was made at a banquet at the University of Oklahoma on Oct. 23, 2015. The banquet honored Meshack Asare of Ghana, winner of the 2015 NSK Neustadt Prize for Children's Literature. Currently residing in Germany, Asare is considered one of Africa's most influential children's and young adult authors. His representative text cited for the NSK was the multiple award-winning picture book Kwajo and the Brassman's Secret, an Ashanti tale about wisdom versus the temptation of riches, published by Sub-Saharan publishers.
The Neustadt Prize is the first international literary award of this scope to originate in the United States and is one of the very few international prizes for which poets, novelists and playwrights are equally eligible. Winners are awarded $50,000, a replica of an eagle feather cast in silver and a certificate. A generous endowment from the Neustadt family of Dallas, Texas; Denver, Colorado; and Watertown, Massachusetts; ensures the award in perpetuity.
###
About World Literature Today
Founded in 1927, World Literature Today is the University of Oklahoma's award-winning magazine of international literature and culture. The mission of World Literature Today is to serve the international, state and university communities by achieving excellence as a literary publication, a sponsor of literary prizes and a cultural center for students. Now in its ninth decade of continuous publication, World Literature Today has been recognized by the Nobel Prize committee as one of the "best edited and most informative literary publications" in the world and has been called "an excellent source of writings from around the globe by authors who write as if their lives depend on it" (Utne Reader, January 2005).