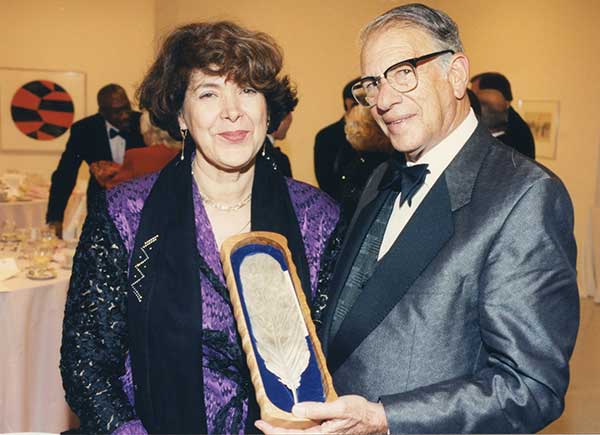 "We are lauding her here because she has given weeping its words and longing its lyrics."—William Gass, "Encomium for Assia Djebar, 1996 Neustadt Laureate" (WLT 40, Autumn 1996)
Assia Djebar (1936–2015) was the pen name of Fatima-Zohra Imalayen. She was born in a small coastal town in Algeria, where her father taught French. In 1955 she became the first woman to be accepted into the École Normale Supérieure in Paris, where she published her first novel in 1957. Her pen name originated with this novel, a work she feared would anger her father. Her first collection of verse was published in 1969, the same year that she would also publish her first work of drama. In 1978 she became a film director, and her work on La nouba des femmes du Mont Chenoua earned her the prestigious Grand Prize at the Venice Film Festival in 1979. In 2005, based on her superior body of work, Djebar was accepted into the Académie Française as its first member from the Maghreb. Djebar's body of prose includes the titles Le Soif (1957; Eng. The Mischief, 1958), Les Alouettes Naïves (1967), Femmes d'Alger dans leur appartement (1980; Eng. The Women of Algiers in Their Apartment, 1992), and Vaste est la prison (1995; Eng. So Vast the Prison, 1999). Her director's credits include the films La Nouba des femmes du Mont Chenoua (1977) and La Zerda ou les chants de l'oubli (1992). In addition to the Neustadt Prize, Djebar was honored with the 1998 International Prize of Palmi and the 2000 Peace Prize of the German Book Trade.
In a letter to Djebar, nominating juror Barbara Frischmuth said, "The fact that the language of your childhood, the language in which you feel, shines forth time and again between the lines of your text, not in the form of individual words but rather in the form of perceptions which must first be 'translated' or transcribed, opens up an entirely new dimension for French" ("A Letter to Assia Djebar,"WLT 40, Autumn 1996).
 
JURORS
FINALISTS
Yiorgos Chouliaras (Greece/USA)
Vassilis Vassilikos (Greece)
Desmond Egan (Ireland)
Vizma Belsevica (Latvia)
Barbara Frischmuth (Austria)
Assia Djebar (Algeria/France)
Alfrún Gunnlaugsdóttir (Iceland)
Nirmal Verma (India)
Alamgir Hashmi (Pakistan)
Randolph Stow (Australia/England)
Carlos Rojas (Spain)
Rafael Alberti (Spain)
Albert Russo (Transnational)
Werner Lambersy (Belgium)
Hanan al-Shaykh (Lebanon)
Tahar Ben Jelloun (Morocco/France)
Mario Valdés (Canada)
Carlos Fuentes (Mexico)
Eliot Weinberger (USA)
Bei Dao (China)
"Ladies and gentlemen, by honoring me here today, you give strength to my vulnerability, as you give the power of solidarity to the solitude of my exile."
—Assia Djebar (Algeria), 1996 Neustadt Laureate