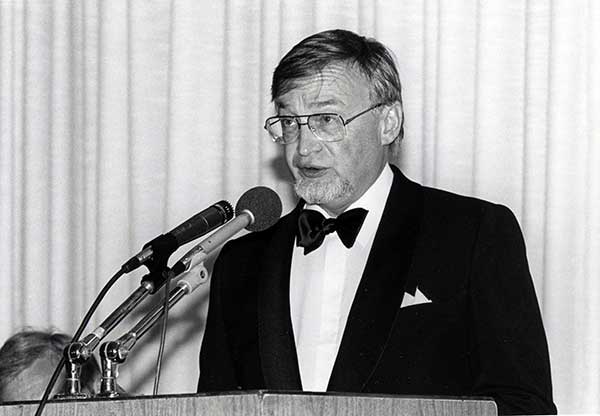 "He seems not only to see but also to say, sometimes tortuously but at the same time quite clearly and incorruptibly, how things are. The world speaks 'indistinctly, fast and about everything all at once,' and Haavikko's solution has been to look at the world face to face and learn its language."—Kai Laitinen, "Introduction to Paavo Haavikko's Poetry" (WLT 58, Autumn 1984)
Finnish poet and playwright Paavo Haavikko (1931–2008) was born in Helsinki and lived there until his death. He published his first collection of poetry in 1951 at the age of twenty. After three more verse collections, two three-act plays, and two novels, Haavikko's first English-translated piece was published in 1961. Haavikko embraced the modernist movement in Finland and, through his prolific works, influenced many other genres of Finnish literature in his lifetime. Through his literary achievements, Haavikko became the leading writer of his generation and of the postwar period in Finland. Haavikko's poetry collections include Tiet etädisyyksiin (1951),Talvipalatsi (1959; Eng. The Winter Palace, 1967), Kaksikymmentdja yksi (1974; Eng. One and Twenty, 2007), and Sillat: Valitut runot (1984). His works of drama include the titles Agricola ja kettu (1968; Eng. Agricola the Fox, 1985) and Kuningas Idhtee Ranskaan (1974; Eng. The King Goes Forth to France, 1984).
In his encomium speech, Philip Binham said of the 1984 Neustadt winner: "The Paavo Haavikko who has won the Neustadt International Prize for Literature is a writer at the height of his powers. He has interpreted our myths and our history for us; he has revealed the mainsprings of our actions" (WLT 58, Autumn, 1984).
 
JURORS
FINALISTS
Stanislaw Baranczak (Poland/USA)
Zbigniew Herbert (Poland)
Bo Carpelan (Finland)
Paavo Haavikko (Finland)
Mouloud Mammeri (Algeria)
Jorge Amado (Brazil)
Kamala Markandaya (India/England)
Howard Brenton (England)
N. Scott Momaday (USA)
Christopher Logue (England)
Ottó Orbán (Hungary)
Sándor Weöres (Hungary)
Edouard Roditi (USA/France)
Ernesto Sábato (Argentina)
Eric Sellin (USA)
Mohammed Dib (Algeria/France)
Charles Tomlinson (England)
Donald Davie (England)
Luisa Valenzuela (Argentina)
Jorge Luis Borges (Argentina)
Elie Wiesel (USA/Israel/France)
Manès Sperber (Austria/France)
"Using all the rich patterns in the world, literature constructs a form in which the following things can be found: the question of injustice and justice, the movement of events in the world, and darkness. The reader is invited, he is given an opportunity—but he may walk past if he will. It is the writer's lot to go on working, in the dark, in motion, free, alone, available."
—Paavo Haavikko (Finland), 1984 Neustadt Laureate