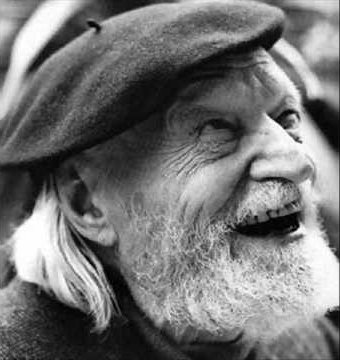 "Thanks to Giuseppe Ungaretti and his work, Italian poetry early in this century regained a universality of language through which have found exemplary expression the innermost anguish, dreams, and hopes of modern man."—Luciano Rebay, "Encomium for Giuseppe Ungaretti" (Books Abroad 44, Autumn 1970)
Giuseppe Ungaretti (1888–1970) was born into an Italian family in Alexandria, Egypt, where he was educated in French and began working as a journalist and literary critic. He moved to Paris in 1912 but enlisted in the infantry in World War I and fought in the trenches in northern Italy. World War I served as the catalyst for Ungaretti's venture into poetry, and he published his first collection in 1916. Among the many literary affiliations that influenced his work were dadaism, hermeticism (which he helped to revolutionize in the 1930s), symbolism, and futurism. Ungaretti's books of poetry include L'allegria (1931), Sentimento del tempo (1933), Un grido e paesaggi (1952), and Vita d'un uomo (1969; Eng. The Life of a Man, 1958).
In his essay subtitled "The Old Captain's Last Voyage," Ivar Ivask praises Ungaretti, saying: "The present issue praises the poet for his original achievement and mourns the disappearance of an extraordinary human being from our midst: an almost equally grave loss for those who had the privilege to have been his friends of a lifetime and for those who knew him but a few years, months, or even days. For future friends, the man will be the poetry" (Books Abroad, Autumn 1970).
Neustadt Jurors and Finalists 1970

JURORS
FINALISTS
Piero Bigongiari (Italy)
Conrad Aiken (USA)
J. P. Clark (Nigeria)
John Berryman (USA)
Frank Kermode (Great Britain)
Jorge Luis Borges (Argentina)
Jan Kott (USA)
Edward Brathwaite (Barbados)
Juan Marichal (USA)
Hans Magnus Enzensberger (West Germany)
Gaëtan Picon (France)
Graham Greene (England)
A. K. Ramanujan (India/USA)
Jorge Guillén (Spain)
Allen Tate (USA)
Zbigniew Herbert (Poland)
Mario Vargas Llosa (Peru)
Pierre-Jean Jouve (France)
Andrei Voznesensky (USSR)
Pablo Neruda (Chile)
Heinrich Böll (Germany)
Francis Ponge (France)
 
Alexander Solzhenitsyn (USSR)
 
Giuseppe Ungaretti (Italy)
"I find myself at a university—a model for encouraging studies, but also for the diffusion of poetry. Hence I am happy to be here not only on account of the honor, but also for having seen in a distant land, which seems isolated from the world, how much can be done for the support of culture and for the diffusion of poetry—with determination, with grace, and with well-guided intuition."
—Giuseppe Ungaretti (Italy), 1970 Neustadt Laureate